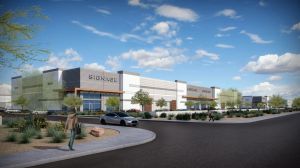 Thompson Thrift Commercial is preparing to add 1.1 million square feet of speculative offerings to the high-demand metropolitan Phoenix industrial market.
The real estate company recently spent just over $31 million on the acquisition of 68 acres of land in Queen Creek, Ariz., where it will develop a multi-structure campus of manufacturing, warehousing and distribution space. The project will be built in phases at a total development cost of approximately $180 million.
The land Thompson Thrift acquired is located near the southwest corner of Germann Road and Meridian Road, in close proximity to the Phoenix-Mesa Gateway Airport. The site, already zoned for industrial development, also allows for easy access to vital transit arteries, including Loop 202 and the forthcoming State Road 24. Thompson Thrift's project will also have some notable neighbors, namely LG Energy Solution, which revealed plans in April 2022 for the development of a $1.4 billion battery manufacturing plant in the suburban Phoenix town.
---
READ ALSO: How Speculative Development Addresses Supply Chain Challenges
---
Thompson Thrift's sprawling industrial campus will ultimately feature 13 premier facilities ranging in size from 62,000 square feet to 110,000 square feet. Phase I of the development will encompass approximately 400,000 square feet of space among five buildings. Construction of the initial phase is on schedule to get underway in December 2022.
Too much or not enough industrial product?
News of Thompson Thrift's Queen Creek land deal comes just six months after the company's purchase of 25 acres in nearby Mesa for the development of a mixed-use industrial and retail project that is expected to feature 255,000 square feet of speculative industrial space. The company has zero fears about overdevelopment in the industrial sector in the Greater Phoenix area.
"Due to supply chain issues, we see more manufacturing-related businesses looking to locate back in the U.S. and Arizona is an excellent landing spot for them," Chris Hake, senior vice president with Thompson Thrift Commercial, told Commercial Property Executive. "In addition, the business-friendly environment in Arizona and the highly skilled labor force in the Southeast Valley make it a logical landing spot for companies looking to relocate from other areas of the Southwest U.S."
Research figures validate Thompson Thrift's confidence in the metropolitan Phoenix market. Robust tenant demand drove the Phoenix area's industrial vacancy rate down to 4 percent in the first quarter of 2022, its lowest level on record, according to a report by Colliers. Additionally, the 7.8 million square feet of positive net absorption in the first quarter marked the highest single quarter of net absorption ever recorded for the Phoenix industrial market. And these record-highs occurred with 5.6 million square feet of new inventory delivered.
In Phoenix, there appears to be no end in sight to the soaring demand for industrial product; there's just not enough. "The Phoenix industrial market remains red hot and consistently performs better each quarter," according to the Colliers report. "The majority of vacant spaces are receiving multiple offers because of the tight vacancy. With the price gap between the Phoenix market and California markets, developers, tenants and investors are still seeing the potential growth of industrial product."