By Beata Lorincz
All businesses are aiming for custom-fit, creative solutions for their offices. Tech companies are particularly open to experimenting and integrating new concepts into their workplaces such as residential and hospitality elements. This type of components are making their way into modern workspace design strategies, while common-area amenities are also moving into the limelight.
Shannon Gaffney, co-founder & creative director of Seattle-based SkB Architects, has gained experience in creating original office spaces, mainly for tech companies. The full-service architecture and interior design firm was involved in the development of Microsoft's Design Language for Place, a set of guidelines put together for the creation of Microsoft offices, presented at the 2017 Design Summit in Montreal.
SkB Architects has designed numerous workplaces. What sets tech companies apart as clients?
Gaffney: Actually, very little. Everyone wants an evocative workplace that caters to the way they work and offers an array of blended amenities. No one comes to us and says "make our workplace feel like a workplace." Everyone from tech clients to lawyers are looking for residential, workplace and hospitality-esque qualities for themselves and their clients.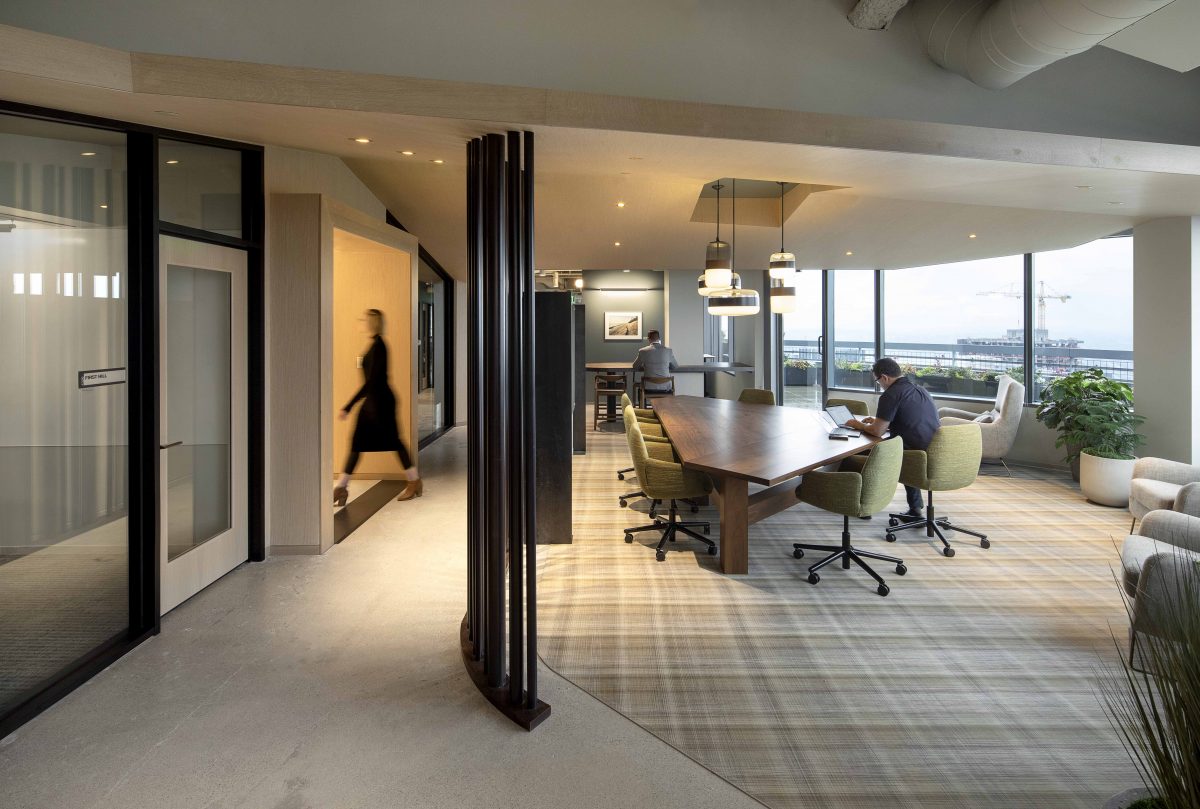 What are the most recent innovations in workplace design, especially regarding tech companies?
Gaffney: I think we've seen the popularity of end-on-end, Hogwart-style workstations reach their zenith. While they're great for density, they're much more challenging for acoustics or if you work in smaller teams and need a greater variety of workpoints. Microsoft, followed by Google, has been on to this for a little while now. We call them "neighborhoods" and they typically have eight to 16 people with an optional meeting table. It's open, but zoned, so you get some degree of privacy within a big space—sort of alone and together at the same time.
What amenities are tech companies seeking for in a workplace?
Gaffney: Most commonly, they're looking for a variety of workpoints, larger meeting rooms, subsidized food options, bike/fitness facilities, games and recreation services, as well as features that cater to pets—dog parks, piddle pads, you name it.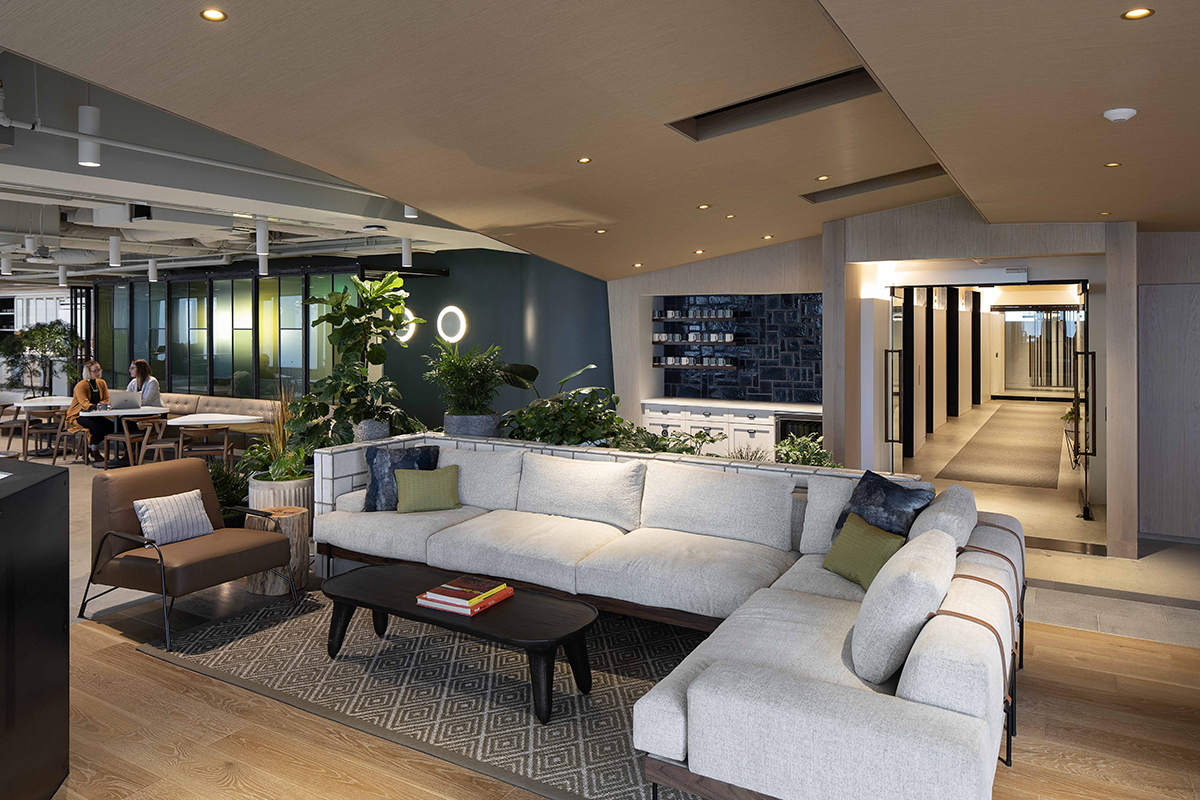 SkB Architects was recently involved in putting together a set of guidelines for Microsoft offices. Tell us more about this project.
Gaffney: The Microsoft real estate footprint covers 46 million square feet over more than 779 global sites. Each building, remodel and sprawling campus must artfully convey Microsoft's dynamic gestalt, thoughtfully contribute to the surrounding community's identity and subtly enhance the well-being of all who enter its spaces. How do they accomplish all this without giving every site the same rubber-stamped look, the same formulaic floor plans, the same standardized experience for employees, visitors and local community?
This is where the Design Language for Place comes in. Far from being a mere "kit of parts" formula that many companies use, Microsoft's Design Language for Place instead elevates design by exploring exactly what makes a space look, feel and function as a reflection of both the company's cultural brand and its unique location. It's almost like a Choose Your Own Adventure for any global stakeholder involved in the design of Microsoft spaces, but with guide rails placed just the right distance out to the sides. So far, it's been really well received and we were honored to be invited to present our work alongside Microsoft at the World Design Summit in Montreal last year.
How can data on the use of an office space help improve its quality? How common is the use of data in workspace design and how do you see this trend going forward?
Gaffney: Good quality data—both anecdotal and exactly measured—can be immensely beneficial. The key is balancing both in the right amounts as each has its own limitations. How people behave and what they tell you about a space can often appear at odds and it's crucial to get to "why" if you want to get it right. Data is pretty commonly used and data-driven firms certainly love it—from chair sensors to tracking usage via key fobs—but it's important to recognize that it lacks qualities and characteristics. Tracking will never capture happiness and enjoyment. Even surveys can be misleading because employees sometimes wonder who is reading the answers and if their answers will come back against them.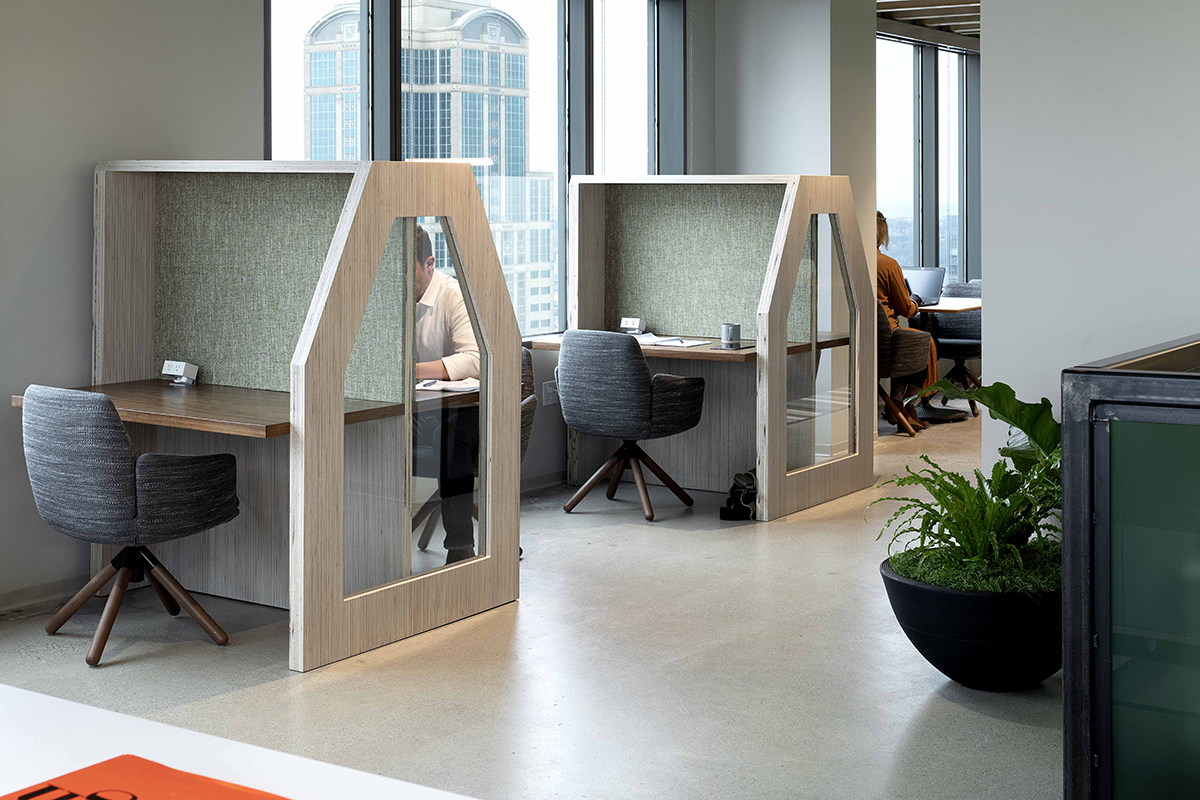 Give us an example of a recent office project you have worked on. Which are its main features?
Gaffney: We're really proud of the work we've done recently for a global management consultancy firm which has asked to remain anonymous for now. They were coming from a very dated, old office and were ready for a space that could be used to attract new talent, retain the talent they had and that better reflected their approach to work. In the resulting space, the only assigned desks were for dedicated admin staff with the remainder of the office offering five to six deeply varied workpoints—from the ultra-private to the "alone but together" to war room-style teaming areas. They also really embraced a rich palette of materials and colors.
The final outcome was a sophisticated yet comfortable space that encourages exploration. It truly represents that blend touched on before—strong residential elements alongside workplace characteristics and elements one might expect in a boutique hotel.
Images courtesy of SkB Architects