December 5, 2011
By Barbra Murray, Contributing Editor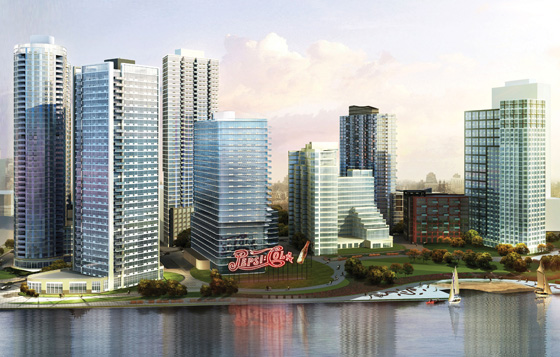 Evidence of banks' strong attraction to the apartment market, even construction projects, continues to grow and TF Cornerstone is among the latest real estate companies to benefit from the growing interest. TF Cornerstone has secured $265 million in financing from a consortium of four banks for the development of 4545 Center Blvd, an 850-unit luxury apartment high-rise that will sprout up in Long Island City, Queens.
The Singer and Bassuk Organization served as TF Cornerstone's advisor on the loan transaction, with Wells Fargo, M&T Bank, Bank of America and Capital One providing the loan for the 40-story tower.
In addition to high-end residences, the nearly 800,000-square-foot, LEED-certified building will feature 12,300 square feet of retail space, 55,000 square feet of outdoor space and a 1,000-space parking facility. The project is part of TF Cornerstone's 20-acre East Coast mixed-use residential development that will ultimately encompass 2.9 million square feet of multi-family units, as well as extensive retail and parking accommodations. Investors have been lured to the projects like metal to a magnet. In 2010, when financing was even harder to come by, the company had obtained the necessary funds to commence construction of 4615 Center Blvd. and 4540 Center Blvd, which will add 700 luxury rentals to the local market come spring 2012.
Lenders have come off the sidelines and banks are no exception; they are becoming progressively eager to provide financing in the increasingly attractive apartment market. "While agency originations increased over past year, the re-emergence of life companies and banks caused their market share to drop from 62 percent in 2010 to 44 percent in the first half," William E. Hughes, a senior vice president with Marcus & Millichap Capital Corp., noted in a third-quarter report. "Lenders view apartments as preferred assets."
The long-term stability of the market as a result of strong and growing demand is the draw, and fundamentals in Queens are particularly desirable. In the past year, the vacancy rate in the borough has dropped to an enviably low 1.9 percent, as per the report.
TF Cornerstone expects to wrap up construction of 4545 Center Blvd. in 2013.