By Barbra Murray, Contributing Editor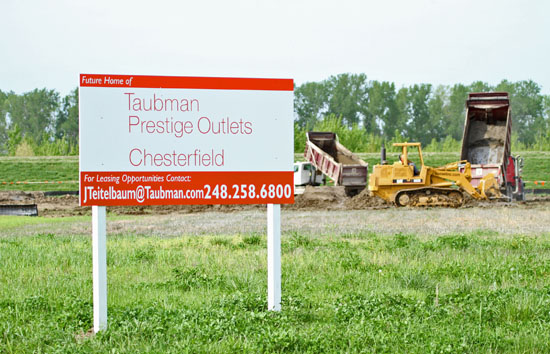 The composition of the St. Louis-area retail market will soon undergo a notable change now that Taubman Centers Inc. has broken ground on what will become the region's dominant outlet shopping destination, the 450,000-square-foot Taubman Prestige Outlets Chesterfield, in Chesterfield, Mo.
With a bevy of retailers in the luxury fashion outlet business having already expressed a strong interest in the open-air shopping center, Chesterfield will live up to Taubman's "prestige" label. High-end goods are moving up on shoppers' list, as are discount items, and outlet centers essentially offer a combination of the two. As noted in a new report by ChainLinks Retail Advisors, "Consumer shopping patterns have diverged to the extremes; luxury retail is back for the higher-end consumer and discount retail is flourishing.
The Chesterfield project, which will sprout up approximately 20 miles outside of St. Louis, will also attract attention by providing amenities rarely found at shopping centers, including dog-friendly hospitality and convenient access to a fitness trail.
Taubman jumped through more than a few hoops to get Chesterfield off the ground, including securing approvals from entities ranging from the City of Chesterfield to the Army Corps of Engineers. However, the retail REIT deftly paved the road to the commencement of the project, obtaining all of the requisite green lights in one year. In the current economic climate, if anyone can achieve the seemingly unachievable, Taubman can — and has. This spring, the company just debuted the 700,000-square-foot City Creek Center in Salt Lake City, Utah, the first enclosed regional mall to come online in the U.S. in several years Taubman also holds the distinction of being the leader in tenant sales per square-foot in the country's publicly held regional mall industry.
Development activity at the 49-acre Chesterfield site will yield approximately 750 construction jobs, and upon the fall 2013 completion of the open-air shopping center, 1,200 permanent positions will be created.