By Mallory Bulman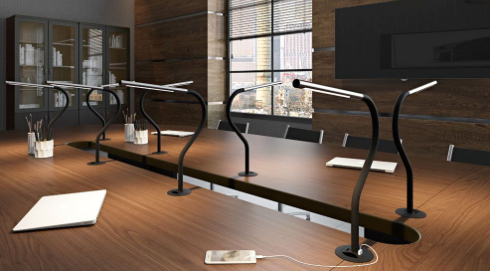 The United States Department of Labor designed the Occupational Safety and Health Administration (OSHA) in 1970 to set standards for how workplaces manage their employees' health and well-being. In today's age of cubicles and computer desks, OSHA has developed a workstation environment recommendation to help determine the most ergonomic and productive way to set up a traditional office workspace. One of the major components of healthful working is adequate lighting, and OSHA specifically suggests supplemental task or desk lighting to balance out the brightness of computer monitors.
LUX LED Lighting, a company with clients like Hilton Resorts, Marriott/Starwood and InterContinental Hotels Group, has developed a new light solution designed especially for desks and task lighting. According to LUX, natural lighting plays a key role in academic achievement for college students, who are notorious for late-night cramming sessions. With this challenge in mind, the company designed the Toronto lamp collection, which closely emulates natural daylight any time of day. 
With a 3000K color temperature that mimics daylight more than traditional yellow-light bulbs, the Toronto collection can be used in offices, conference rooms, hospitality business centers and educational spaces alike. The Toronto LED Task Lamp boasts 360-degree flexibility, a sleek and unobtrusive design and two USB charging ports in the base. The flexible neck of the lamp can be adjusted in all directions, and brightness can be adjusted with three touch-activated settings that cast bright, warm light from 3000K to 450 Lumens. 
The Toronto collection is also offered in floor and grommet versions.
Photo courtesy of LUX LED Lighting.