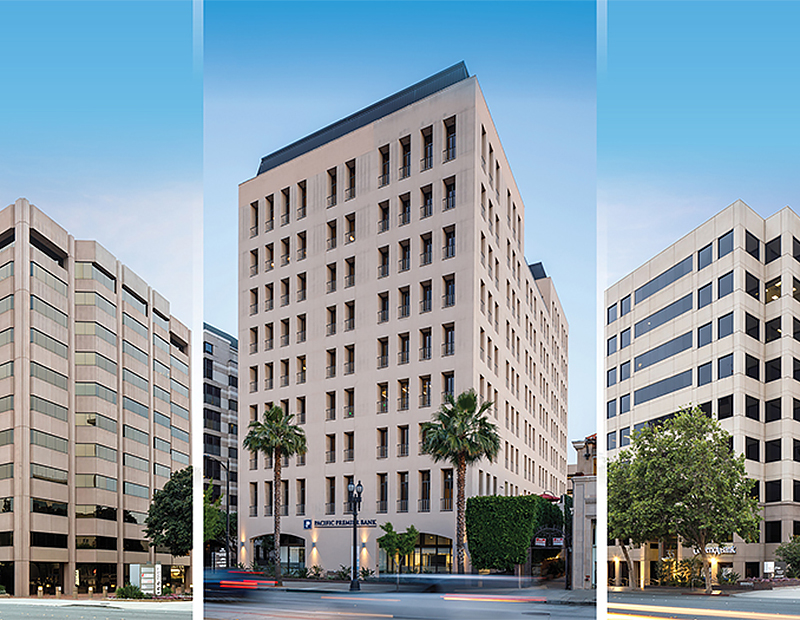 Swift Real Estate Partners has acquired a three-property, 516,890-square-foot office portfolio in Pasadena, Calif., from PGIM Real Estate for $193 million. The purchase was the first made through the San Francisco-based real estate investment firm's $500 million Fund III. Focused on value-add investments in Northern and Southern California and the Pacific Northwest, the recently raised fund has $1.4 billion of buying power.
---
READ ALSO: Urban Land Development Buys San Francisco Office Building
---
JLL represented the seller, procured the buyer and worked on behalf of Swift to secure a $160 million, three-year-floating-rate acquisition loan through Nuveen Real Estate. The JLL Capital Markets team that represented the seller was led by Michael Leggett, Andrew Harper and Matt McRoskey. The JLL Capital Markets team that arranged the financing for the borrower was led by Paul Brindley, Todd Sugimoto, Jeff Sause and Steven Paskover.
Known as the Pasadena Collection, the properties include a nine-story, 146,313-square-foot building at 790 E. Colorado Blvd.; an 11-story, 211,792-square-foot building at 155 N. Lake Ave.; and a nine-story 158,785-square-foot building at 35 N. Lake Ave. The buildings, all LEED Gold certified, were constructed in the early 1980s and have had some cosmetic renovations over the years. Swift is expected to begin a significant capital improvement plan to provide a best in class environment for tenants and to appeal to new tenants coming into the market.
Strong tenant roster, enviable location
The properties have a total of 68 percent occupancy. Tenants at 35 N. Lake Ave., also known as the Pasadena Financial Center, include Comerica, Zurich American Insurance, TIAA Bank, Hunter Molloy & Salcido, the John R. Walton Law Offices and Paycom. Tenants at 155 N. Lake Ave., also known as Century Square, include California Bank & Trust, Regus, Saiful Bouquet, Friedenthal, Heffernan & Klein, Wimmer Associates, SEIA and Steinfl & Bruno. Tenants at 790 E. Colorado Blvd. include Primuth & Driskell, BBSI, SPFM, U.S. Department of Labor, Robert Half, Premier Workspaces, Wong & Mak and Dorsey, Wright & Associates.
The portfolio is situated in one of the most amenity-rich and walkable locations in the Tri-City market. Located along the convergence of Pasadena's two retail corridors, Lake Avenue and Colorado Boulevard, the portfolio features a Walk Score of 90 with numerous restaurants, bars, boutiques, retail stores and entertainment and fitness offerings within minutes of the properties. It is also close to the California Institute of Technology (Caltech), Art Center College of Design and the Jet Propulsion Laboratory, a federally-funded NASA R&D site operated and managed by Caltech.
The deal was secured by HFF prior to being acquired by JLL on July 1. Co-brokerage services were provided by Jones Lang LaSalle Americas Inc.
Swift moves
The acquisition comes soon after Swift sold a six-story, 73,972-square-foot, multi-tenant office building in North Hollywood, Calif., for $30 million to Rockwood Capital and Artisan Realty. Located at 4640 Lankershim Blvd., the property is 98 percent leased to a diverse group of tenants including entertainment, financial, educational and professional services companies. Swift acquired the property in October 2017 for $23.5 million from Curo Enterprises and repositioned the asset. Improvements, which included the creation of a large outdoor lounge and lobby renovations, brought occupancy from 70 percent to stabilization.
In August, Swift acquired the Bellevue 529 Office Corridor Portfolio, two properties totaling 185,927 square feet in Bellevue, Wash., from Schnitzer West and RMA. The properties are Bel Kirk 520, a Class A building with 94,221 square feet, and Centra Office Park, a two-building asset with 91,706 square feet.