By Gail Kalinoski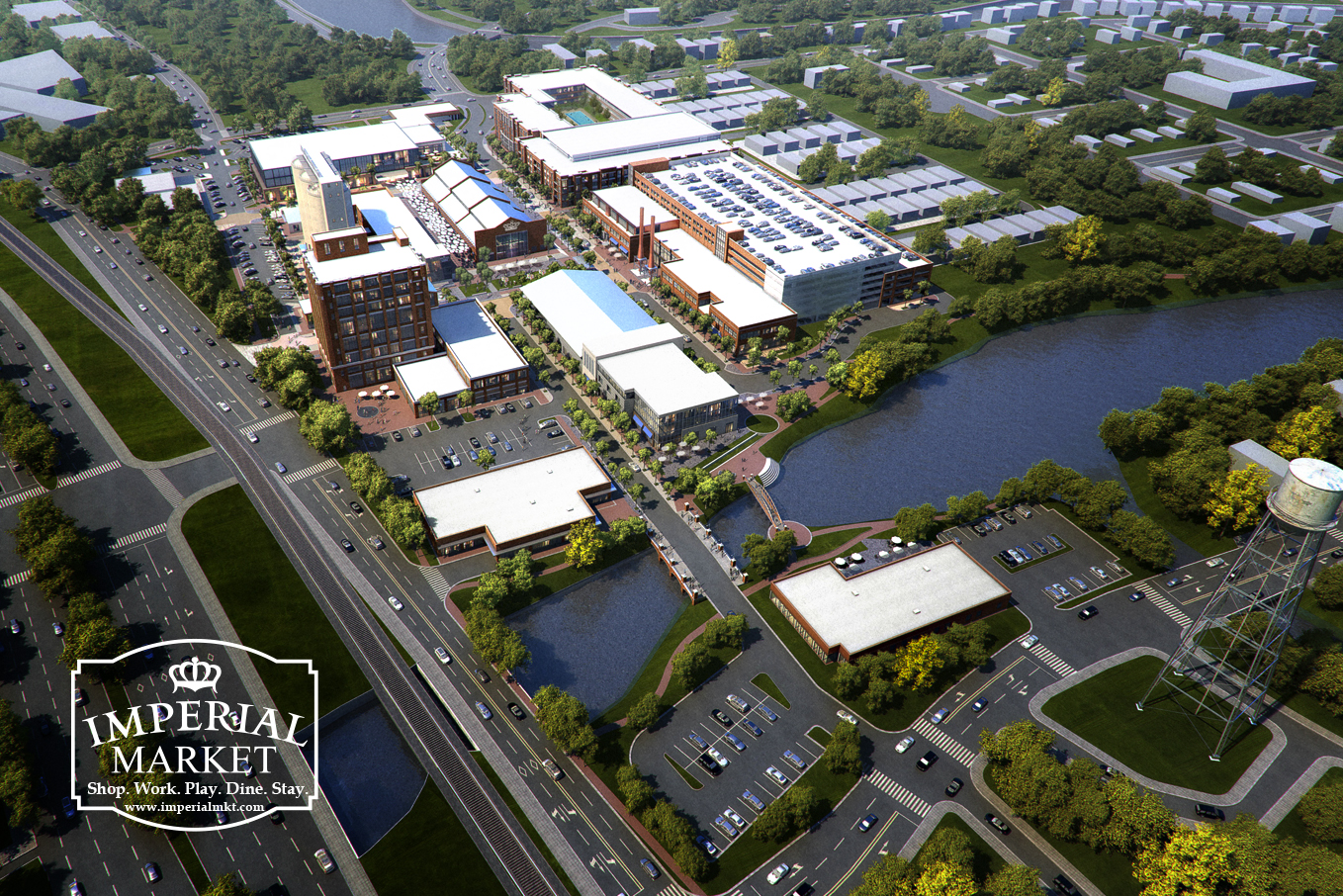 Houston—Imperial Market Development LLC is moving ahead with plans for a $200 million mixed-use project at the 26-acre former Imperial Sugar Refinery site in Sugar Land, Texas, that will feature retail, a hotel, offices and luxury multifamily housing.
The partnership is led by principals Geoffrey Jones and James Murnane, who purchased the property from Johnson Development Corp., according to the Houston Business Journal. Jones was chairman & founder of the Texas Real Estate Fund Inc., which developed, owned and invested in shopping centers, office buildings and retail projects in the Houston area since the 1980s. He was also an original co-general partner/developer of the Houston Pavilions mixed-use project in the Houston CBD. Murnane is a career commercial real estate finance professional. A former CEO of North Houston Bank, he has held many other executive banking positions around the world.
Imperial Market is located within the 720-acre, master-planned community of Imperial being developed by Johnson Development. The 855,000-square-foot mixed-use project is located on U.S. 90 between Highway 6 and U.S. 59, and will be built along the Oyster Creek.
The project is being designed by HOK, an internationally known architectural firm. Harvey Builders is the general contractor, LJA is handling engineering and The Hunton Group is providing HVAC and building systems for the project. Bancorp South provided financing for the land purchase.
Representatives of Transwestern's Houston office are handling retail and office leasing at the project, which will start construction in September with a projected opening by late 2017. Retail leasing will be headed up by Managing Director Nick Hernandez, Senior Vice President Crystal Allen and Associate Chace Henke. Executive Vice President Eric Anderson and Vice President Greg Tilton are handling office leasing.
The retail, dining and entertainment components will total 290,000 square feet and feature a 55,000-square-foot, nine-screen Alamo Drafthouse Cinema. Restaurants set to open at the site include Schilleci's New Orleans Kitchen, The Guild Bar, Mia Bella and The Company Town. Vino & Vinyl is a popular wine bar that plays music on record players from new and classic vinyl albums. A mix of fashion and soft goods tenants are expected to commit to space soon.
"Initial feedback from retailers is outstanding, and we are looking forward to announcing many more best-in-class-tenants in the coming months," Hernandez said in a prepared statement.
Roughly 90,000 square feet of Class A office space will be located above the retail shops and restaurants.
"The quality of the workplace and the ability to walk to a wide array of restaurants and stores is extremely appealing to office users, and it provides companies with a huge competitive edge with respect to hiring and retaining the most skilled work force," Anderson stated.
A luxury boutique hotel with 185 rooms and 10,000 square feet of conference and meeting space will be built in the historic Char House, one of Sugar Land's most iconic landmarks. The exterior of the Char House–built in the early 1920s as part of the sugar refinery–will be carefully restored. An operator is committed to the hotel but has not been publicly identified.
Sueba USA will build and manage a 274-unit luxury multifamily complex. The firm has developed numerous upscale residential properties in the Houston area and recently completed the nearby Sueba Imperial Lofts, adjacent to Constellation Field, where the minor-league Sugar Land Skeeters play.
Imperial Market is already home to the Fort Bend Children's Discovery Center and a popular Farmer's Market. The Sugar Land Heritage Museum & Visitors Center will also have its permanent home at the development.