Sustainability Starts With People
Key takeaways from the inaugural Design 4 People conference sponsored by the Massachusetts chapter of the U.S. Green Building Council.
With sustainability and green design at the forefront of the commercial real estate industry, biophilia, health and wellness, net zero energy and efficiency are hot topics in development and design. That's why the U.S. Green Building Council's Massachusetts chapter hosted its first Design 4 People conference in Boston this week. Here are some top takeaways from the inaugural event.
---
READ ALSO: Energy Efficiency Scorecard: Rating the States
---
Biophilia can be defined as humanity's innate need to connect with nature and the natural environment. Jodi Smits Anderson, director of Sustainability Programs, Dormitory Authority of the State of New York, said this can be simplified into three segments: mind, in which your employees show higher scores in attention and reliability; body, where daylight is shown to regulate the body's melatonin and aids in sleep; and spirit, producing an environment in which employee presence and productivity increase.
"The most important part of biophilia is talking about satisfaction in a building as much as nature," she said. "It's about connecting something local, something familiar."
Smits Anderson also shared the five strongest requirements for basic functioning in a building: (1) adjustability—varying temperature, air, lights, etc., (2) ability to act on the environment and see the effects, (3) meaningful stimuli (stagnancy brings on chronic stress), (4) one's own territory (for safety, an identity, and protections), and (5) views to the outside world.
Developing with green in mind
Matt Edlen, director East Coast/Midwest Development, Gerding Edlen, offered several case studies of how his firm took underutilized areas and transformed them into mixed-use districts focused on energy efficiency and community creation. "Green is not just an 'addition to' initiative. It's something that can drive value," he noted. "In order to get anyone to buy in, you have to start with building a community and creating inviting spaces."
In order to achieve this, developers should keep in mind the following principles of place:
Build community
Create inviting spaces
Minimizing carbon footprint and energy dependence
Connect people and buildings to nature
Encourage transportation alternatives
Craft the first 30 feet
Inspire communities with art
Make 20-minute living real
Integrate schools and neighborhoods
Preserve symbols that matter
Health and wellness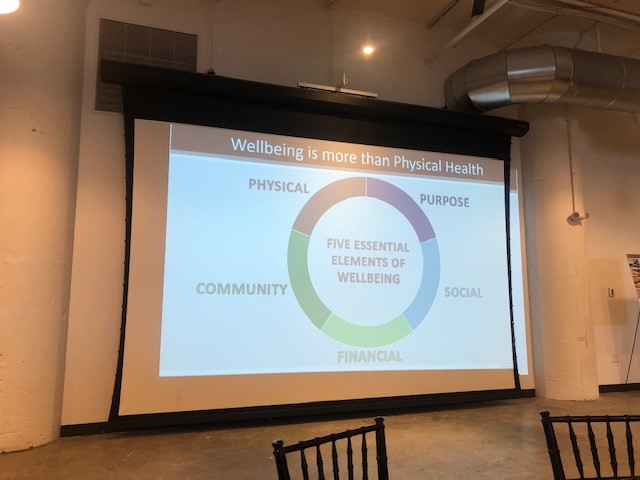 Energy efficiency is vital for promoting human, environmental and planetary health, according to Carlie Bullock-Jones, founder & principal, Ecoworks Studio.
Many companies offer workplace wellness programs, but how often do employees know these exist or utilize them? Bullock-Jones noted that 85 percent of U.S. employers offered a wellness program, while 60 percent of employees were aware of that offering and 40 percent who were aware of it actually participate. Overall, that means that only 24 percent of employees at companies that provide wellness programs use them.
Elements most wanted in an office:
Natural light (44 percent)
Indoor plants (20 percent)
Quiet spaces (19 percent)
View of the sea (17 percent)
Bright colors (15 percent)
Fifty-five percent of firms in the U.S. rate greater health and wellbeing as their top social reasons for green building—up from only 29 percent in 2008. This shows that green and sustainability in the commercial real estate industry is growing as a whole and proving to be an important implementation that doesn't plan on slowing down anytime soon.