November 9, 2011
By Nicholas Ziegler, News Editor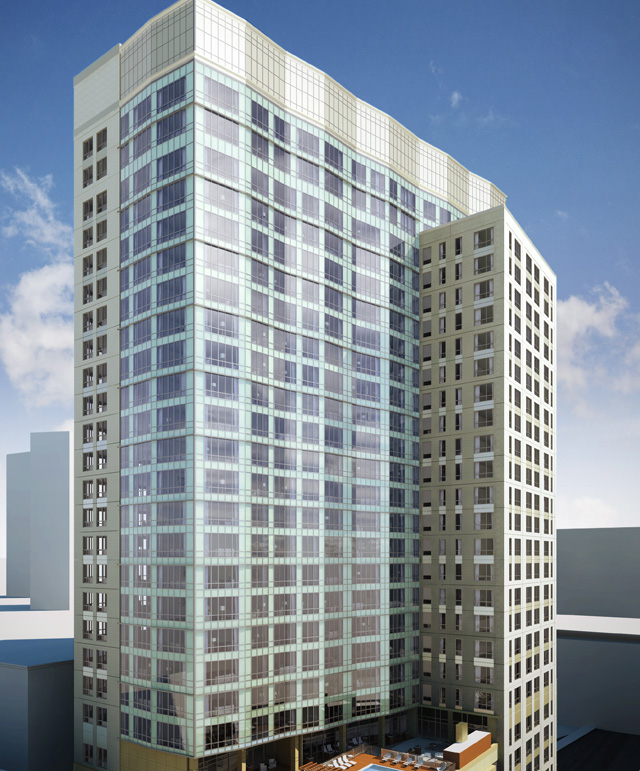 The Kensington, Boston's newest residential tower, has found a construction firm. Suffolk Construction was recently awarded the contract for the 27-story, 488,000-square-foot structure from the building's owners and partners, Kensington Investment Co. and National Development. Northwestern Mutual Life Insurance Co. is serving as equity partner.
The multi-housing property will feature 381 luxury rental apartments and 2,300 square feet of ground-floor retail in Boston's Theatre District neighborhood, joining Suffolk's other projects in the submarket: Archstone Boston Common, Suffolk University Modern Theatre and the Boston Opera House. The property will be designed to LEED Gold standards.
According to Commercial Property Executive's sister publication, Multi-Housing News, the Boston market has seen demographic shifts in recent years that appeal to both apartment developers and buyers. Of the nation's largest cities, Boston has the highest proportion of 20- to 34-year-olds, and between 2000 and 2011, the number of residents in that age bracket increased by 11 percent. Richard Robinson, a principal in the Boston office of Apartment Realty Advisors, was optimistic on the city's future, noting that – in addition to strong rental demographics and low unemployment – Boston has a diversified economy that will drive greater numbers of people to seek housing within the city limits.
"We have such a great diversity in terms of jobs," he told MHN, "that I think we'll [rebound] better than most cities."
Construction on The Kensington is slated to be completed in summer 2013.