Success, Satisfaction and Salaries – Women in Commercial Real Estate
By Diane Butler
2012 CREW Network President
President and CEO
Butler Burgher Corporation
While commercial real estate is a field dominated by men, more women than ever are now entering the field, despite the fact that pay and promotion disparities remain obstacles. Why? And what can we do to help break the glass ceiling?
In its recent white paper, Success and Satisfaction of Women in Commercial Real Estate: Retaining Exceptional Leaders, CREW Network, interviewed 20 senior industry executives to discuss a key finding from its 2010 industry benchmark study – that women consistently rated their feelings of career success and satisfaction in commercial real estate lower than men. CREW Network's goal for the interviews was to discuss and provide insight into issues related to success and satisfaction in the workplace in the hope that organizations will develop and implement plans designed to retain and promote the women among their ranks.
During the course of the interviews, common myths were examined and debunked, including: compensation is not as important to women as it is to men; and women will not take risks. It became clear that these misconceptions are simply the remnants of a culture that is shifting.
Sponsorship of women remains an area that requires more focus within the industry. Research published by the Harvard Business Review shows that men are 46 percent more likely than women to have a sponsor – someone who advocates for the individual's career success. The lack of female executives in top leadership positions is a contributing factor, as is the reluctance of women and men to engage in a sponsor relationship with one another due to the potential misperceptions that can occur about the nature of the relationship.
The interviews with senior leaders in commercial real estate also yielded strategies for women to work to achieve parity:
1. Develop an understanding of the market value of their skills.
2. Talk to recruiters to get their insights on compensation. Speak with colleagues and share details of compensation and benefits to common advantage.
3. Stay in touch with colleagues while taking a leave of absence, be a life-long learner and find ways to continue to develop their skills.
4. Articulate their wants and needs. Negotiate for what they deserve.
5. Communicate their accomplishments and achievements to those who matter.
6. Raise their hands to volunteer for stretch assignments.
7. Network, network, network.
8. Look for sponsors to help propel them to the top of the ladder and help others do the same.
Change typically doesn't happen at the pace we would like, but CREW Network's interviews with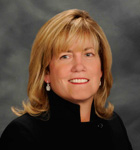 these top executives made clear that companies value the talents women bring to the industry and are committed to correcting the disparities that exist.