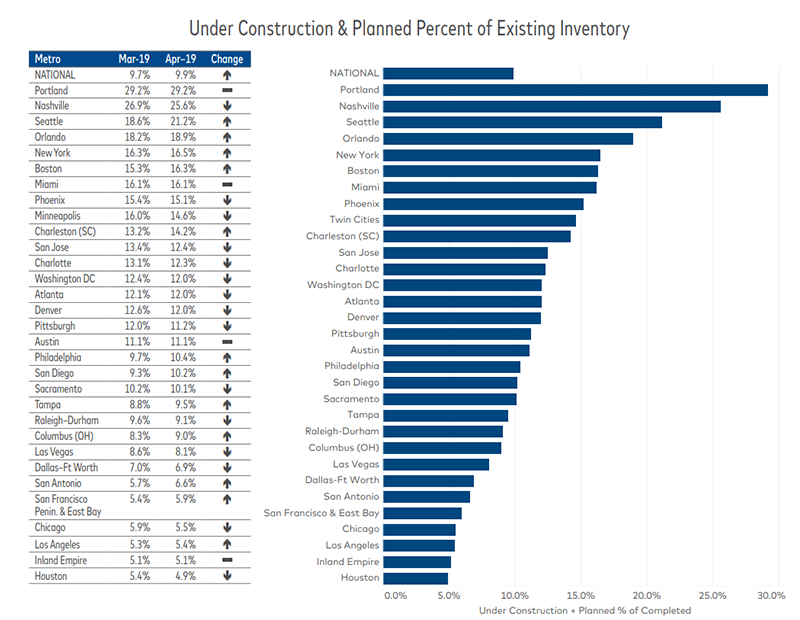 Rents for the month of March continued to decrease, however strong demand in undersupplied markets has pushed the sector closer to growth. Over the past 12 months, street-rate rents have declined by 0.9 percent for 10×10 non-climate-controlled and 1.5 percent for climate-controlled units. Nevertheless, rent performance for climate-controlled units improved by 70 basis points over February's 2.2 percent decrease.
Limited supply continued to support rent growth in major West Coast markets. Las Vegas is still among the top performing metros as street-rate rents have increased year-over-year for both climate- and non-climate-controlled units by 2 and 5 percent. San Diego has emerged as one of the strongest markets, rents for the 10×10 climate-controlled units have grown by 6 percent over the past 12 months.
Nationally, projects under construction or in the planning stages accounted for 9.9 percent of existing inventory, a 20-basis-point increase over the previous month. Development activity remained high in secondary markets, where the diversified economy and favorable demographic trends are supporting new construction. Portland, Nashville and Seattle are the leading markets in development, the new-supply pipeline in these markets represent 29.2, 25.6 and 21.2 percent of existing stock.
Despite the growing popularity of secondary markets, large, undersupplied metros in the Northeast also show a strong appetite for new self storage products. However, due to the limited space available, developers are forced to look for smaller land parcels that only allow for multi-story developments to maximize site utility. Curt McCall, director of CBRE's self storage specialty practice for Valuation and Advisory Services, in an interview with CPE, hinted at the fact that this new format of self storage buildings might be a disadvantage, considering that traditional drive-up products are favored over multi-story facilities. Secondary markets, however, tend to have enough land for both drive-up and climate-controlled units what further increases their appeal.