By Gail Kalinoski, Contributing Editor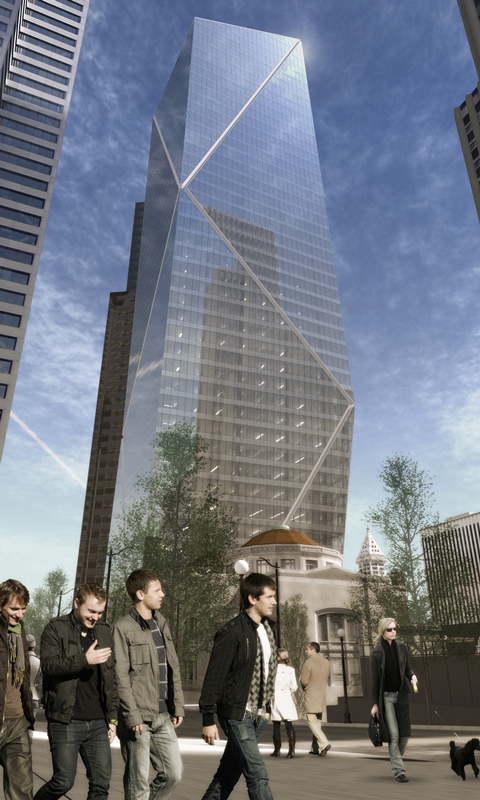 One day after announcing it was breaking ground on SLS Las Vegas, hospitality developer SBE Entertainment Group L.LC. said it was bringing the SLS hotel brand to downtown Seattle, where it will team with Stockbridge Capital Group and Daniels Real Estate to put a 184-room luxury hotel in Daniels' planned $400 million mixed-use tower.
The 43-story building, the tallest to be erected in the city in 20 years, will be located at Fifth and Columbia in downtown Seattle. SLS Hotel Seattle will occupy floors 2 through 15, with 184 guest rooms and suites; 30,000 square feet of food and beverage outlets; more than 20,000 square feet of conference and event space; a spa and fitness areas.
Construction of the tower, which will have 528,000 square feet of Class A office, is expected to begin in the fourth quarter of this year with completion slated for 2016. Famed designer Philippe Starck will design the hotel spaces. Jose Andres, an award-winning chef and SLS Hotels culinary director, will develop the food and beverage concepts.
"We've had our eye on Seattle for years, and with the local hospitality market trending in a very positive direction, we're extremely pleased to announce our plans for SLS Hotel Seattle," Sam Nazarian, founder, chairman and CEO of SBE, said in a news release. "Stockbridge Capital and Daniels Real Estate are leaders in architectural excellence and along with the legendary designer Philippe Starck, Fifth and Columbia will add yet another chapter to the celebrated legacy of the SLS Hotels brand, while offering a tailored and unique hotel experience."
"Fifth and Columbia with SLS Hotel Seattle will raise the bar in Seattle luxury hospitality and Class A real estate development," Kevin Daniels, president of Seattle-based Daniels Real Estate, said in the release. "We both have a mission to redefine standards of excellence and innovation."
ZGF Architects, specialists in sustainable design, are also part of the team. The tower is expected to be one of the first high-rise office buildings in Seattle to earn Gold certified LEED status. One of the ways the project will be using sustainable design is the plan to preserve and re-use the nearly 100-year-old First United Methodist Church on the site.
Daniels and Stockbridge bought the site in 2008 and began receiving city approvals for construction but put off development because of the financial crisis. Now that the city is on an economic upswing and the hotel market is improving, the developers began moving forward with the project. Kidder Matthews reports in its Real Estate Market Review for the second quarter 2012 that hotel occupancy rates have recovered to pre-recession rates.
"The recovery has been most rapid for upscale hotels in and near Seattle, where occupancy rates are at or near stabilized levels," the report stated. "With improved performance and a loosening of credit restrictions, there is renewed interest in hotel acquisition and development."
The Kidder Matthews report noted that average room rates for hotels in the Seattle CBD rose 7.7 percent from $183 per night in 2011 to $197 per night in 2012. Daily RevPAR was up 8.1 percent from $140 in 2011 to $152 in 2012.
SBE is moving ahead not only with the Seattle hotel, but plans for SLS Las Vegas, which the company said Wednesday would open in fall 2014 on the site of the former Sahara Hotel & Casino. Stockbridge, a real estate investment management firm with about $5.2 billion in assets under management, is also the equity partner on this project with SBE. The companies are planning a $300 million renovation of the old Sahara property, which they bought in 2007 for an estimated $300 million to $400 million.
SBE also owns SLS Hotel Beverly Hills and the Redbury in Los Angeles and The Raleigh and SLS Hotel South Beach in Miami. The company, which developed and operates L.A. hot spots like Katsuya by Starck and Hyde Lounge, is also planning hotel and restaurant projects in New York, Chicago, Washington, D.C., Philadelphia, Austin, Texas, as well as in the Middle East and Asia.
Daniels, a leading Seattle developer, is building Stadium Place, a 1.5 million-square-foot mixed-use project on four acres near CenturyLink Field in the city. It will be the largest transit-oriented development in the Pacific Northwest and feature residential, office, retail space and a hotel. Work on the first phase began in 2011.
Like us on facebook: https://www.facebook.com/pages/Commercial-Property-Executive/258033884191