October 4, 2011
By Barbra Murray, Contributing Editor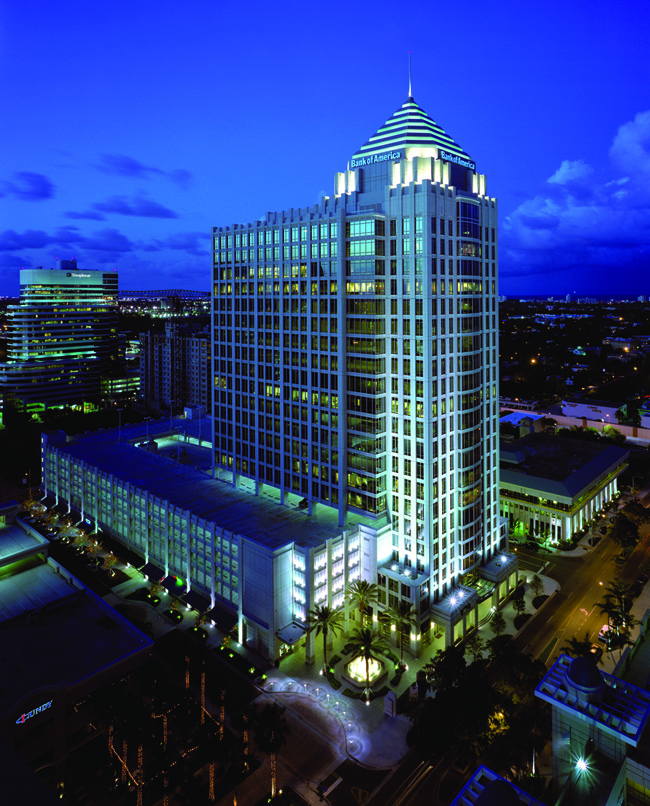 Nine years after developing Bank of America Plaza at Las Olas City Centre in Fort Lauderdale, Fla., Stiles has sold the 410,000-square-foot trophy office building for $164 million. The buyer, 401 East Las Olas L.L.C., is an entity owned by a real estate fund managed by J.P. Morgan.
Stiles has been a part of LOCC since the beginning. After completing the 23-story tower in 2002 through its Stiles Construction subsidiary, the company's Stiles Property Management and Stiles Realty divisions took on responsibility for overseeing the asset and have continued in that role ever since, even after Shorenstein Co. acquired a 90 percent stake in the property for $120 million in 2005. And nothing will change now, as the Stiles subsidiaries will continue to handle management and leasing on behalf of the new owner.
LOCC is not just any office property, and the investment community took note when the asset hit the market, according to commercial real estate services firm Holliday Fenoglio Fowler L.P., which marketed the mixed-use structure on behalf of Stiles. "Considering the significant recent transactions in this market and current demand for core assets, the partnership felt this was an opportune time to market the property for sale," Rocco Ferrera, chief investment officer of Stiles, said.
Located downtown at 401 E. Las Olas Blvd. in the city's central business district, LOCC features roughly 365,000 square feet of premier office space, a 45,800- square-foot retail plaza and a five-story, 1,042-space parking facility. The likes of Bank of America, law firm Greenberg Traurig, Guarantee Insurance and UBS Financial Services grace the tenant roster of the building, which is 95 percent leased.
Maintaining a high occupancy level is no simple feat in Fort Lauderdale's current office market climate. The direct vacancy rate for Class A properties in the CBD is 22.7 percent, according to a third quarter report by commercial real estate services firm Jones Lang LaSalle.