By Barbra Murray, Contributing Editor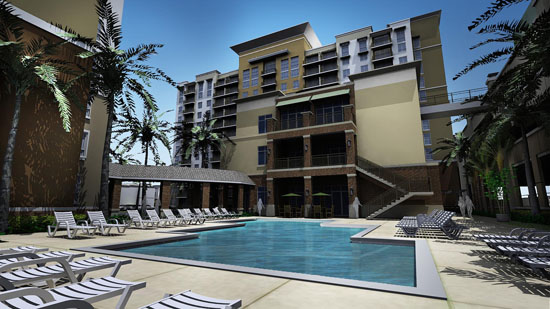 A new mixed-use development is sprouting up in Plantation, Fla., at the hands of Stiles. In a two-part endeavor, the developer will erect a new luxury apartment complex and redevelop a neighboring commercial retail segment in the city's Midtown District within the greater Ft. Lauderdale area.
The project's residential component, One Plantation, will feature 321 upscale units in two 12-story structures on a nearly six-acre site acquired in 2004. Stiles, which is building the gated community in a partnership with Prudential Real Estate Investors, has already secured $40.6 million in construction financing through PNC Bank. It is a timely pursuit, as the demand for rentals in the area is growing stronger and stronger.
The metropolitan Fort Lauderdale apartment market has experienced nine consecutive quarters of positive absorption, according to a recent report by Apartment Realty Advisors. The enviable numbers are due in no small part to the fact that many would-be homebuyers continue to be alienated by strict lending standards and are, thusly, turning in the direction of multifamily. Fort Lauderdale's vacancy rate is on a consistent downswing and is on track to hit the mid-3 percent mark in 2013.
Not only are renters looking for luxury apartment units, they are seeking bustling 24/7 environments. One Plantation will cater to their increasingly loud call for residential accommodations in what is fast becoming a booming live-work-play neighborhood.
University Shoppes, the adjacent commercial component, is the segment of the Stiles project that will add the "play" in live-work-play. Stiles is taking on the redevelopment of the 65,000-square-foot shopping center on its own, with plans of commencing the sweeping multi-phase renovation of the 9.5-acre destination within the next couple of months.
If all goes as planned, One Plantation will make its debut in June 2013, and the updating of University Shoppes will reach completion in early 2014.