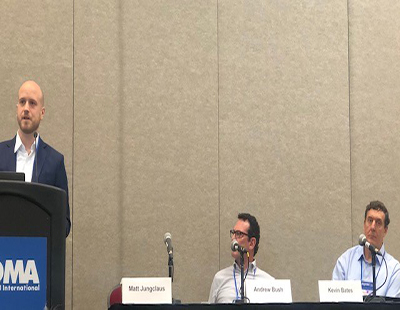 Zero Over Time (ZOT) is a concept that sets existing commercial building portfolios on a financially viable path to achieve net-zero energy. At a panel at this year's BOMA International Conference & Expo, Rocky Mountain Institute's Manager Matt Jungclaus, Sharp Development Co.'s President Kevin Bates and Morgan Creek Ventures' Principal Andrew Bush discussed six steps to achieving net-zero energy within commercial buildings, and how to implement this investment on a budget.
---
READ ALSO: The Changing Dynamics of Tenant Engagement
---
More and more, building owners are beginning to increase their investment in energy efficiency. According to Johnson Controls 2018 Energy Efficiency Indicator Survey, investment in energy efficiency is driven globally by a 77 percent cost reduction, 67 percent greenhouse gas reduction, 65 percent increasing energy security and 59 percent customer attraction and retention. Many are seeking low-carbon and net-zero energy buildings, which consume only as much energy as they produce or procure from clean, renewable resources on an annual basis.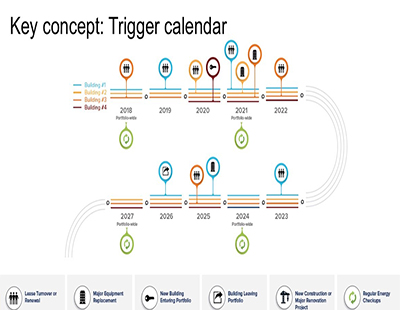 Achieving net-zero energy on a budget is possible in six steps: set goals, baseline, plan efficiency projects, analyze renewable storage, procurement and track progress.
Despite this, there is still a need for implementing net-zero energy into existing buildings, not just developments. "Tenants are looking for this and investors are valuing it more," said Jungclaus. "There is a 30 to 50 percent savings opportunity for investing in building efficiency."
Top concerns for getting into net-zero energy:
too expensive
wouldn't know where to start
too risky, what if it doesn't work?
too complicated to manage
you can't improve an occupied building to ZNE cost effectively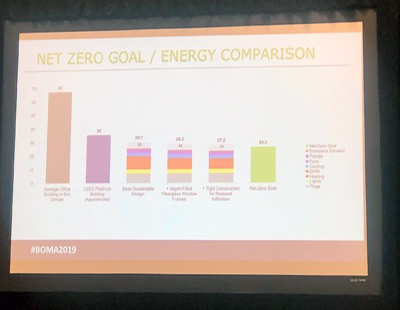 Existing buildings put in basic regulations years ago and now building owners are trying to fix energy use problems along the way, but are paying for the issues, explained Jungclaus. According to a recent survey by the U.S. Energy Information Agency, 72 percent of gross square footage in the U.S. belongs to buildings more than 20 years old. However, panelists shared that office assets existing globally are receiving energy retrofits at a rate of around 1 percent annually, while a rate of 3.2 percent is required in order to avoid a 2 degree rise in global temperatures.
Zero Over Time carries value through multiple ownership transitions, including short-term holding periods. Each owner will benefit from the increased value of high-performing buildings that retain value better than conventional buildings. Benefits to property owners include increased value, better overall economics for the owner and tenants, market differentiation, faster lease-up and better retention.
The new workplace experience:
great day-lighting/open work environment
employee thermal comfort
indoor/outdoor spaces
integrated common areas
places to "get away" and still be at the office
"Now we have to be focused on building with off the shell parts, looking at energy efficiency in a different way," said Bush. "We're creating exciting spaces, moving beyond just focusing purely on energy, but what the new workplace experience will be."