By Adriana Pop, Associate Editor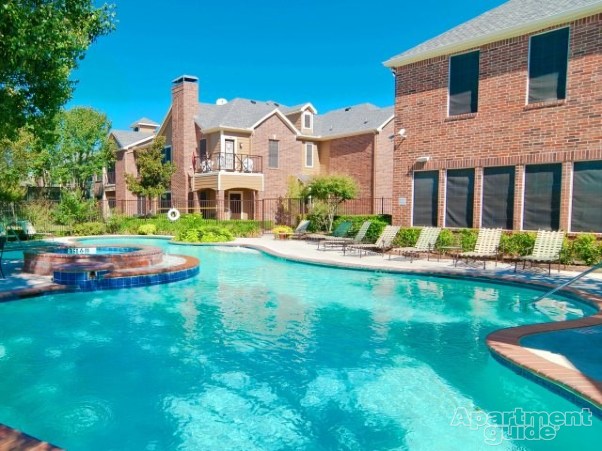 In two separate transactions totaling $157 million, Steadfast Apartment REIT has acquired four multifamily communities offering a combined 1,072 units. The company is now planning to renovate the properties, which are located in Missouri and Texas.
With these acquisitions, Steadfast has now invested approximately $844.3 million in 22 apartment communities containing 7,237 units in 10 states.
In Missouri, the REIT has purchased Carrington Park, a 298-unit apartment community located 15 minutes north of downtown Kansas City. The acquisition marks Steadfast's first foray into the state.
Carrington Park offers one-, two- and three-bedroom configurations that average 1,112 square feet. Interior amenities include a chef's kitchen, black appliance package, nine-foot ceilings with crown molding, walk-in closets, home intrusion alarm, ceiling fans and full-size washer/dryer. The 38-acre property also offers a variety of onsite facilities, including a fitness room, resident entertainment center with billiards, playground, resort-style swimming pool, auto detailing bay, BBQ grills and dog park.
At the time of sale, Carrington Park was 98 percent leased. And given the fact that the property is in good condition, Steadfast's value enhancement plan includes limited interior improvements, common area upgrades and the construction of 30 additional detached garages.
Some of the region's largest employers and retailers are located in the community's proximity, including St. Luke's Northland Hospital, Ford Motor Co. and Zona Rosa, a 1.3 million-square-foot-retail center. Furthermore, Kansas City is projected to have an increase of between 75,000 and 100,000 residents over the next decade, due to the Twin Creeks infrastructure improvement currently underway that will transform 13,000 acres of previously undevelopable land into buildable commercial and residential sites.
The remaining three properties Steadfast recently acquired are located within the Dallas/Fort Worth/Arlington Metropolitan Statistical Area, the largest metropolitan area in Texas.
Located in the city of Euless, approximately 30 and 20 minutes from the Dallas and Fort Worth central business districts, Kensington by the Vineyard is a 259-unit apartment community that was built in 1997. The property spreads across 14.7 acres and comprises a leasing office, maintenance building and 37 two-story apartment buildings with one-, two-, three- and four-bedroom layouts. Apartments have an average size of 1,077 square feet with average in-place rents of $1,552. Amenities include three swimming pools, a business center, picnic and BBQ area, 24-hour health club, coffee and tea bar, tennis court, playground and walking and jogging trails. Kensington by the Vineyard was 95.8 percent occupied as of Aug. 24. Steadfast REIT plans to make moderate exterior upgrades and rebrand the property.
Another asset included in the acquisition portfolio is The Delano at North Richland Hills, a 263-apartment community in North Richland Hills. The property features a mix of one-, two-, three- and four-bedroom apartment homes in eight different layouts ranging from 722 to 1,954 square feet. Most units come with an attached garage. Residents here also have access to a swimming pool, sand volleyball court, 24-hour fitness center, playground, picnic area and business center. Steadfast's renovation plans for the property include major interior upgrades as well as moderate exterior enhancements and rebranding of the community.
The third Texas property that was part of the acquisition–The Meadows at North Richland Hills –is located in the same city. Built in 1999, the community comprises a mix of 252 units in two-, three- and four-bedroom designs that average 1,140 square feet with average in-place rents of $1,209. Amenities include a 24-hour fitness center, sand volleyball court, two swimming pools, dog park, basketball court, tennis court, picnic area with BBQ stations and a playground.
The Meadows at North Richland Hills is currently 97.6 percent occupied. Steadfast is planning to rebrand the property and launch a major revitalization strategy to update unit interiors and common areas.
"We believe the apartment market is bountiful with opportunities for quality assets in diverse economies that attract a younger, well-educated workforce," Ella Neyland, president of Steadfast Apartment REIT said in a prepared statement. "We believe our latest purchases fit that description and are in line with Steadfast's strategy of targeting communities in vibrant suburban settings with access to lifestyle services and downtowns that cater to the younger demographic."
According to Neyland, the Dallas/Fort Worth/Arlington MSA is a very prolific market in terms of economic growth. Major employers, including AT&T, JPMorgan Chase, Exxon Mobil, Neiman Marcus and airline companies, help support apartment demand and fundamentals. Rents in the area are in fact estimated to increase by 3.5 percent annually in the next five years.
Furthermore, the Dallas/Fort Worth/Arlington MSA is the largest MSA in the South and the fourth largest in the country, marked by a steady annual population growth of approximately 2 percent over the past decade. Additionally, the metro boasts a strong five-year employment growth of 12.6 percent, projecting to add 116,500 new jobs in 2015 alone. As of May 2015, the Dallas MSA unemployment rate was 3.8 percent, well below the 5.5 percent national average.