By Barbra Murray, Contributing Editor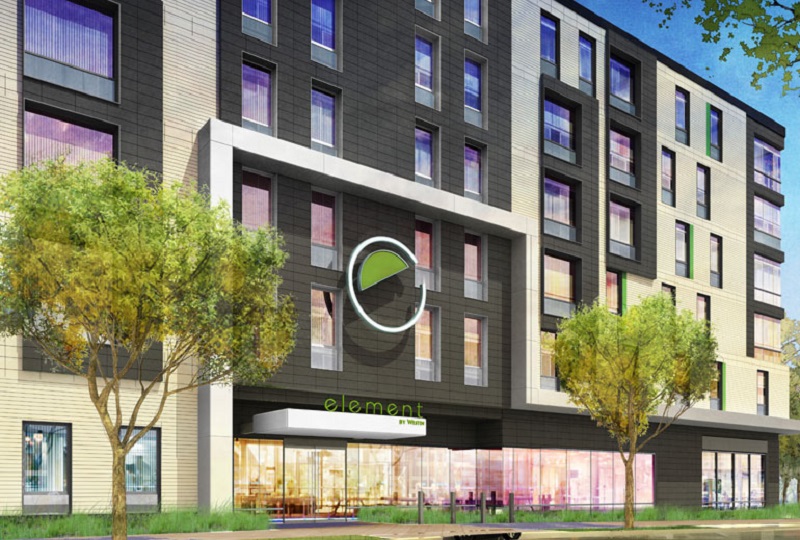 Starwood Hotels & Resorts Worldwide Inc. continues to offer visitors double doses of options on single sites with the opening of Aloft Boston Seaport and Element Boston Seaport, two hotels sharing the same five-acre location across from the Boston Convention & Exhibition Center.
CV Properties and funds controlled by Ares Management developed the dual-branded hotel complex at a cost of $158 million, while RBS Citizens Financial Group and Santander Bank provided $97 million in financing. Managed by Starwood, the two hotels share a driveway and a 120-space parking lot, but that's where the common ground ends. Starwood's Aloft brand is designed to accommodate the mobile, tech-driven world traveler, while properties flying the hotel company's Element flag feature an environment centered on wellness and sustainability. The flags are different, as are the offerings.
Aloft Boston Seaport, a 13-story building, offers 330 guestrooms, 10,000 square feet of meeting space, approximately 8,000 square feet of ground-level retail space and a trendy Starwood-branded bar. And just a stone's throw away, the eight-story, extended-stay Element Boston Seaport features 180 keys, 1,000 square feet of meeting space, roughly 8,000 square feet of retail space and an indoor saline pool.
The extra 510 hotel rooms are a welcome sight in the booming Seaport District. "The new Aloft and Element hotels will help meet the rising demand for stylish, high-caliber lodging generated by the Boston Convention & Exhibition Center and the Seaport District," Andrew Holm, managing director in the Ares Real Estate Group, said in a prepared statement. "The opening of these sleek, new hotels also enhances Boston's appeal as one of the country's leading convention cities." The Greater Boston hotel market in general is thriving. According to a report by Integra Realty Resources, hotel demand in the Boston area continues to hit peak levels, as evidenced by strong RevPAR, ADR and occupancy, which reached 80 percent at year's end, compared to the national average of just under 72 percent.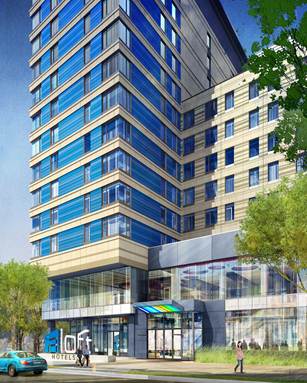 The debut of the Aloft-Element property follows Starwood's announcements of a bevy of dual-branded hotel projects. Over the last few months, the hotel company revealed plans for an Aloft-Element development located just a hop, skip and a jump from Microsoft Corp.'s global headquarters campus in Redmond, Wash., and announced it will open an Aloft-Element project that will anchor a mixed-use development in the Love Field district of Dallas. But Starwood's dual-branded hotel endeavors aren't exclusive to the Aloft and Element brands, or even the company's own flags. In November 2015, White Lodging commenced construction on a project in Denver that will offer a Starwood-branded Le Meridien Hotel and a AC Hotels by Marriott.