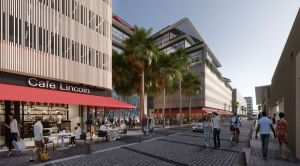 Miami Beach's Lincoln Road District is primed for a transformation now that the City Commission is preparing to vote this summer on the approval of Lincoln Road Property Owner LP's proposal for The Gardens at Lincoln Lane, an approximately 155,000-square-foot mixed-use development.
Lincoln Road Property Owner—a joint venture spearheaded by an affiliate of Starwood Capital Group, Integra Investments and The Comras Co.—has envisioned an office and retail destination designed to create connectivity and accommodate pent-up demand for workplace accommodations. The proposed total development cost of the project is approximately $116.3 million, according to a February 23, 2022, resolution of the Mayor and City Commission of the city of Miami Beach.
---
READ ALSO: Miami's Mayor on the City's Growing Tech Sector
---
Lincoln Road Property Owner emerged victorious in a competition of developers who responded to a request for proposals the City had distributed in 2021. Miami Beach launched the RFP with the goal of activating city-owned parking lots with newly developed office space as a means of diversifying the local economy. If approved, the Gardens will take shape on two adjacent surface parking lots within close proximity of the Miami Beach Convention Center, which benefited from a $620 million modernization and repositioning in 2018.
The Gardens will encompass nearly 130,000 square feet of premier office space on multiple levels, as well as 25,000 square feet of ground-level retail divided between each building, in an effort to establish an active streetscape.
Designed by Brandon Haw Architecture, the low-rise development will be sustainable and high-tech at its core, with energy and water conservation systems, a green roof and touchless security technology. Other amenities, or necessities, at the mixed-use development will include open-air terraces, public seating areas, a pocket park and 425 parking spaces.
The need is real
Despite consistent improvements in the national office sector, finding a market with a high demand for premier office space like Miami Beach is anything but the norm in the current climate.
"[National office] net absorption dipped back into slightly negative territory in Q1 2022 on the back of givebacks due to relocations and consolidation," according to a report by JLL. "After recording net occupancy growth for the first time since the onset of COVID-19 in Q4 2021, absorption ended Q1 essentially flat, with a quarterly decline of 5 million square feet representing a modest 0.1 percent decline in occupancy."
The story in Miami Beach, however, is quite different than the tale of national woe. In the first quarter of 2022, the city recorded 7.9 percent absorption of its total Class A office stock, the highest by nearly double of any submarket in the Greater Miami area, according to JLL research. Additionally, office rents skyrocketed 10.2 percent year-over-year in metropolitan Miami, led by Miami Beach and Brickell. Miami Beach's Class A average direct asking rents topped the market by more than $5, at $81 per square foot.
Should the City Commission approve Lincoln Road Property Owner's proposal this summer, Miami Beach residents will vote on the referendum in November 2022. Lease negotiations on the parking lots are in progress, and the development team is preparing to present The Gardens concept to the public over the coming months. As noted in the resolution, once construction commences, the project will take an estimated 21 months to complete.