Stephen Rosetta, 39
Executive Vice President & Market Leader
Cushman & Wakefield Inc.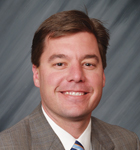 The son of an avocado farmer, Stephen Rosetta was exposed to real estate through his family's involvement in land development. He earned a real estate license as a junior in high school, then an appraiser's license while in college at Cal Poly—San Luis Obispo.
In 1996, he was hired into the career-development program at Cushman & Wakefield Inc. in the company's Los Angeles office. Just a few months later, he found himself with his first great opportunity: to start an independent San Diego office that would use the Cushman platform. Its ranks today number more than 130, and Cushman purchased it back in 2005. Rosetta has since completed 15.3 million square feet of sale transactions with a total consideration of nearly $1.8 billion. Consistently among the top performers for Cushman & Wakefield nationwide, last year he closed 2.3 million square feet of sale transactions for a total of $773 million, and since 2005 he has completed 15.3 million square feet for $1.8 billion.
Volunteer work includes founding the HeadNorth Foundation to provide support to individuals and families affected by spinal-cord injuries and serving on the board of Junior Achievement.
Memorable Achievements: In 2011, Rosetta worked on a lease for the biotech firm Illumina Inc., which eventually signed for 470,000 square feet, one of the largest transactions in San Diego's history. Rosetta was one of Cushman's top 10 brokers nationwide last year and was named a CoStar Group Power Broker.
Goals: Mentoring the next generation at the company. Rosetta is involved in Cushman's training program for emerging brokers.
Greatest Challenges: "I think with every challenge comes opportunity. Down markets allow you to help clients in a different way. I focus only on what I can control, and I can't control real estate markets or outside influences. I have to choose where to spend my attention."
Secrets to Success: Creativity, passion and intensity. "But you can't underestimate the importance of surrounding yourself with the right team."
Best Advice Received: "During my career, I've heard the advice to only surround myself with clients who share my core values. I try and surround myself with people who will help work with me to create a more positive experience."
Advice to Others: "Continuously learn every day and always do the right thing for the client. In our industry, reputation is really important, and you only get one shot. Treat people fairly." —Nicholas Ziegler