Ryan Kass, 30
Senior Managing Director
Newmark Knight Frank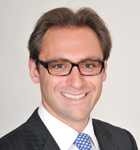 It doesn't get more high-profile than leasing the Empire State Building. But Ryan Kass is up to the job, according to Anthony Malkin, president of Malkin Holdings, which supervises the iconic Manhattan skyscraper. Terming him a "thoughtful, hardworking, diligent and very competitive professional," Malkin noted that Kass lives up to his very high standards. When Kass's team won the contract two years ago, he canceled a vacation in New Zealand and spent the Christmas holiday "walking every single space in the building repeatedly" and reviewing records so he was ready to jump right in after New Year's, Malkin related. He finally took that vacation this past holiday season. Kass's seven-member team, led by Billy Cohen, had already established a track record at One Grand Central Place, a property it continues to lease for Malkin Holdings. It also represents 292 Madison Ave., 1040 Avenue of the Americas and 20 W. 55th St. in Manhattan. Last year's deals totaled 1.4 million square feet.
Kass grew up making deliveries for his father and grandfather's supply company, but realized early on he was more interested in the buildings where he made the drop-offs. An eight-year Newmark veteran who joined the firm right out of Cornell University, Kass, who likes repositioning, devotes about 70 percent of his time to the landlord side. Last year, he transacted more than 1 million square feet of leases at the Empire State Building alone—about a third of the building—including three larger-scale transactions. as well as a pre-built campaign to lease 25,000 square feet divided into five units. "We want to have something for everybody," Kass explained of the iconic skyscraper's current positioning plan.
In addition, Gerard Nocera, partner with Herald Square Properties, hired his team at 292 Madison following an ownership change to reposition the property, smooth relations with existing tenants and lease up vacant space.
Memorable Achievements: Last year, he leased 31,000 square feet in the Empire State Building to LinkedIn, as well as closing renewals and expansions of almost 200,000 square feet for Coty Inc. and 490,000 square feet for a client he declined to name but who the New York Post reported to be Li & Fung. At 1040 Avenue of the Americas, he placed Update Legal, East West Bank Corp., Living Cities, Relizon Co. and New World Travel in a total of 50,000 square feet. He also represented Greystone & Co. in its renewal and expansion of about 20,000 square feet at Carnegie Hall Tower and Charmer Sunbelt in its renewal and expansion of approximately 30,000 square feet at One Grand Central Place.
Goals: "Continue to get better at what I do so I can add more value to clients throughout the process." Expand volunteer work, which currently includes the Pajama Program and the Achilles Group.
What Others Say About Him: Gerard Nocera, partner with Herald Square Properties, who hired his team to lease up 292 Madison Ave., termed him "very focused, (exhibiting) attention to detail and great with tenants." The result: "Tenants want to do business with him." He is also "deeply knowledgeable about the asset (and) willing to go the extra step," Nocera said.
"The assignment he has is the most important thing in his business life," observed Anthony Malkin, president of Malkin Holdings, for whom Kass's team handles leasing of the Empire State Building and One Grand Central Place. Malkin praised his "ability to understand all of the moving pieces that go into a deal," adding, "he is able to understand and communicate and take direction in a very complex transaction."
Greatest Challenges: Not getting too high or too low about any transaction or any day's performance.
Secrets to Success: His work ethic, honesty, an ability not only to admit mistakes but to learn from them, constantly being on the lookout to learn from new ideas, and surrounding himself with a great team.
Best Advice Received: His parents taught him always to take the high road and never compromise his ethics. "It may not be the easiest thing to do, but in the end it's the right thing."
Advice to Others: "The harder you work, the more luck you'll create for yourself." —Suzann Silverman