Rachel Rosenberg, 34
Executive Vice President & Partner
RKF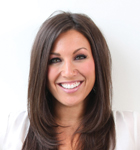 Rachel Rosenberg discovered real estate at 19, but she developed a love for the restaurant business even earlier. From her first restaurant job as a dishwasher at 14 to waiting tables to prep cooking, managing the floor and bartending, she ran the gamut of restaurant jobs and loved it. She was waiting tables while attending college in Wisconsin when she met Polacek Co. managing partner Max Rosanski, who invited her to interview with the company the next week, leading to an internship canvassing for the brokerage firm.
She spent five years at the company, a year and a half as a retail broker, but a relocation to Los Angeles caused her to consider a career change. "(But) I just couldn't turn it off," she said. She landed at local brokerage firm Sachse Real Estate (since acquired by Kennedy Wilson International) and built a client base by taking on "whatever clients I could" and driving wherever they wanted so she could get to know the market. Still with a penchant for restaurants, she developed relationships with the likes of Le Pain Quotidien and Chipotle Mexican Grill.
Two years ago, viewing a national platform as more advantageous, she moved to RKF's L.A. office. She is currently the exclusive L.A. broker for Chipotle, Le Pain, The Veggie Grill, Fig & Olive, Jersey Mike's Subs, Elevation Burger and Pei Wei Asian Diner and has worked with a variety of others. Last year, she leased more than $54.5 million worth of retail space.
Memorable Achievements: When Rosenberg started working on the Chipotle Mexican Grill account more than six years ago, someone told her she'd probably do 20 deals with the restaurateur. Her immediate thought: Just 20? She set her sights on 33. Her 33rd deal with Chipotle took two years to complete but placed the restaurant in a "great showplace," now under construction at Melrose and La Brea next to Pink's Famous Hotdogs. "She really helped put us on the map in L.A.," observed Ginny DiBias, real estate manager for Chipotle. Now well entrenched in the L.A. area, Chipotle has tapped her for another effort: developing a presence on the Las Vegas Strip.
Rosenberg also took Fig & Olive to L.A. from New York and is now working on its third L.A. deal. And she expanded Veggie Grill from Orange County into L.A. with five deals, with a dozen more in the works. The restaurateur's focus on vegan comfort food makes it tough to introduce to landlords, but she terms it a "labor of love" and is working on expanding its presence from San Diego as far north as San Jose.
Although restaurants are Rosenberg's passion, she has also wanted to expand her scope of experience, and has worked with retailers like Gap Inc.'s Gap and Banana Republic brands and J.Crew. Always wanting to try her hand at a theater deal, she was excited to open Sundance Cinemas' first site in L.A. "I wake up in the morning, and I can't wait to get started," she declared.
Goals: To help build RKF's L.A. office to the size and scale of its well-entrenched New York office.
What Others Say About Her: Ginny DiBias, real estate manager for the Chipotle Mexican Grill, first encountered Rosenberg when she was representing the landlord of a project where the restaurant ultimately decided to locate. Rosenberg, DiBias noted, was "such a tough negotiator and I had such a difficult time cutting this deal. She was really sharp, and I decided I wanted her on my team." DiBias finds her "super high energy," honest, trustworthy, clever, engaging, someone who thinks very strategically and knows the market intimately. Rosenberg's boss, RKF president of Southern California Robert Cohen, noted her "innate ability" and "amazing intuition" in understanding people—what he says it takes to be a great broker. He called her a "great listener, a student of the game in terms of being open-minded, listening, understanding clients' objectives, what they need and how they like to be serviced." He also praised her "incredible relationships" on both the landlord and tenant sides, in a relatively short period of time, and her "amazing" level of creativity.
Greatest Challenges: Youth: She landed the Chipotle Grill when in her 20s, finding that the majority of brokers working on such national accounts are much older. Although her early start in business meant she had equivalent experience, she had to prove she was "hungry" and knew what she was talking about.
Secrets to Success: "I always say I was born lucky but have an innate sense of someone's purpose, their goals." An ability to cut to the chase very quickly. "I don't like to waste people's time." An ability to assess clients' needs and requirements quickly. Energy and passion. "I don't mind working 16-hour days; it's a 24/7 business. No matter where I am, what I'm doing, I'm always thinking about it—no matter what I'm shopping for. People say, 'Don't you feel like you're always working?' Yeah. I love it!"
Best Advice Received: Robert Cohen, president of Southern California for RKF, advised her to continually set her goals far enough out on the horizon that she is always reaching, stretching and growing. Also, don't just look at the deal at hand—look at the tenant more broadly: What else are they doing, where else are they going to grow, what do they need, who else do you have in your Rolodex that you could introduce them to.
Advice to Others: "You can't go after a deal for money"—you need to be able to see beyond the immediate deal. If you do, people will respect and trust you, and that will bring more business. "The beauty of our business is that you never know who you're going to meet, where you're going to meet them and how they're going to bridge you to the next deal," so you should maintain an open mind when walking into a new situation. —Suzann Silverman