Mark Manheimer, 35
Vice President of Acquisitions, Retail Sale Leaseback
Cole Real Estate Investments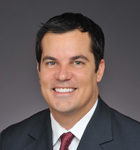 Mark Manheimer has an impressive skill set and strong work ethic, but he also has a mind for trivia. In fact, during Cole Real Estate Investments' first-ever Cole Cup trivia contest last year, he placed second companywide. That mentality has served him well throughout his career. After earning an MBA at Notre Dame, Manheimer joined Realty Income Corp.'s underwriting team. Nearly three years ago, a colleague from Realty Income, Kim Kundrak, moved to Cole and tapped Manheimer to join him. "He had a great personality and a sharp, analytical mind," said Kundrak, now chief acquisitions officer & a senior vice president.
In the less than seven years ago since he entered the commercial real estate business, he has closed more than $2 billion in deals. In 2010 and 2011 combined, he sourced, structured and closed $853 million in deals, the only one on Cole's 11-member acquisitions team to top $450 million during that timeframe, including work with a $266 million Albertsons portfolio of grocery stores. In 2011, he closed about $400 million in transactions, with his signature closing a sale-leaseback with BJ's Wholesale Club, assisting CVC Capital Partners and Leonard Green & Partners L.P. in a portfolio transaction worth $225 million.
Memorable Achievements: At Realty Income Corp., Manheimer led underwriting efforts on more than $1 billion worth of sale-leaseback transactions, focusing on the convenience & gas, restaurant, automotive service, and health & fitness industries.
Goals: Achieve a senior management position "where I can continue to build a great company."
What Others Say About Him: Kim Kundrak, senior vice president & chief acquisitions officer for Cole, particularly likes his work ethic. "He is a hard worker and is a bright guy with a sharp analytical mind. His ability to create relationships, combined with that analytical side, makes him a very strong acquisitions director," he observed.
Greatest Challenges: "It's challenging to stay positive and not to miss opportunities. At Cole, we have access to capital, so it's easy to think that things will always go your way with hard work. But that's not always how it goes."
Secrets to Success: Luck. "I've been fortunate enough to be exposed to smart people in many different industries during my career."
Best Advice Received: His father, a salesman, once told him, "A deal is only successful if both sides feel that it was a good deal for them after the transaction closes."
Advice to Others: "You have to pay your dues. Learn the industry and what your company is trying to do—your time will come." — Nicholas Ziegler