Maggie Coleman, 36
Senior Vice President
Jones Lang LaSalle Inc.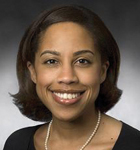 As part of Jones Lang LaSalle's special asset services division, Maggie Coleman had a busy 2011. She was involved in transacting $4.6 billion in loan sales and valuing more than $12 billion in loans for global financial institutions, many with tight timelines—including a two-month window to structure financing on a $1 billion portfolio. But with focus, determination and a belief in not turning down any opportunity, Coleman makes sure her deals get done no matter what the challenges—and she always shows the client a calm exterior, according to Michael Schopin, principal of Chaifetz Group L.L.C., a client for four years during his previous role with a private equity group.
Perhaps her academic side helps. Six years ago, the former intern in the office of Vice President Al Gore Jr., investment broker and technology consultant was pursuing a Ph.D. in political economy from the University of Chicago. Thinking back on a mentor's advice to consider how she wanted to spend her days, she left to pursue real estate finance. "I love the analytics of real estate finance, but it's also such a dynamic industry," she said.
She joined the Midwest capital markets group of The Staubach Co., mainly transacting sale-leaseback deals for private equity firms and other groups. When the company was sold to Jones Lang LaSalle, she saw a chance to expand her capacity through its global platform, and two years ago seized on an opportunity to join its Special Asset Services division, where she focuses on note sales, structured finance solutions and investment banking for institutional clients and banks. Last March, she relocated to New York, where the majority of the group is officed.
With her volume up last year from $2 billion the prior year, Coleman expects to close even more this year. She also expects this year to be "very, very active" for valuations. Work is starting to involve a larger number of banks, particularly those from outside the United States.
Memorable Achievements: Helping to grow the SAS platform in the past year.
Goals: Reach the managing director level and build a team where people love to come to work and be working on deals with you. Active in the company's Leadership Council, she wants to mentor others.
What Others Say About Her: "It's very nice to work with somebody who always delivers," observed Michael Schopin, principal with the Chaifetz Group L.L.C., who worked with Coleman for about four years while with a private equity group, noting that knowing you're going to get a high level of service every time is a nice feeling.
Greatest Challenges: Delegating and finding time to support other women and junior-level colleagues.
Secrets to Success: Having very strong mentors, who have been advocates, given high-level guidance and gone out on a limb to provide access to opportunities. Focus and dedication. Being focused on an area that has had a lot of growth.
Best Advice Received: Don't turn down any opportunities to work on new and interesting transaction;, always be looking to focus on what's new in the market and be ready to pursue that in a very hungry way.
Advice to Others: "Don't turn down any opportunity, especially to run a deal or to be in front of a client as the lead. Anytime you can do that, you're advancing your career." —Suzann Silverman