Larry Sloan, 36
Senior Vice President & Director of Development
Behringer Harvard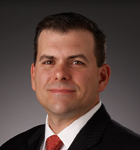 Larry Sloan has real estate in his blood. With a family background in single-family residential sales in Texas, he grew up around real estate. He earned his own real estate license in his sophomore year of college at Texas A&M University. "After doing the math, I figured that part-time money in that field was better than a minimum-wage job," he observed.
Knowing he had a taste for real estate, Sloan specialized in finance and took as many upper-level commercial real estate courses as he could as an undergraduate. He joined the Archon Group as an analyst, then moved into asset management, and in 2007 found his home at Behringer Harvard. "I'm proud that I didn't take shortcuts," Sloan said. "I put in the hard work to get the deals done, even when my instincts tell me to stay away from a deal. Sometimes the challenging, off-market deals are the most rewarding when you get them closed."
That work ethic paid off as early as his first multi-family transaction with Behringer. In 2009, the $96 million purchase of an L.A. apartment complex was featured as the Wall Street Journal's Deal of the Week. The article used the Gallery at NoHo Commons as an example of what buying distressed assets at the right time can do for a firm: "(It) could return more than 8 percent for its buyer," the piece noted.
Last year, he was named a senior vice president & director of development, a role in which he spearheaded both multi-family sourcing and transaction activity in Behringer Harvard's Southern region, while also directing the national multi-family development platform. He closed $160 million in multi-family acquisition and development transactions during the year, and has closed more than $700 million in deals in the past three years, more than 85 percent through industry relationships that generate those off-market opportunities.
Memorable Achievements: Last year, a short sale led Behringer Harvard to acquire an asset well below replacement cost from a lender and developer. The complex land assemblage required working with a lot of different lenders. Additionally, the firm completed the off-market purchase of a high-rise development in a core Texas market.
Goals: Continue to drive quality—not quantity—of transactions with clients. "It's more important to push yourself out of your comfort zone and recognize that you're always a student, that there's always something to learn."
What Others Say About Him: "He has proven to be one of the quickest learners in the space, someone who likes to get his hands dirty and learn something on his own rather than rely on others to figure it out," said Mark Alfieri, COO of Behringer Harvard's Multi-Family REIT I vehicle. "He's a rare combination of a traditional deal guy, someone who's outgoing and friendly, but he's also an analytical type."
Greatest Challenges: Staying on top of a region that has a very large transaction volume. "There are multiple disciplines involved, and it's only possible because my team is extremely dedicated and detail oriented."
Secrets to Success: "It's important to stay humble, to remember those who have encouraged and helped you along the way. There's no substitute for hard work—you have to get into the details to be successful."
Best Advice Received: "You have to manage your time and relationships as if your success depends on it—because it does."
Advice to Others: "Don't be afraid to deliver bad news." Also, remember not to just bring your boss a problem—bring a solution, too. "Think things through before you elevate them." —Nicholas Ziegler