Bryce Aberg, 37
Industrial Landlord & Investment Specialist
Cassidy Turley BRE Commercial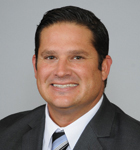 Last May, Bryce Aberg closed the largest industrial deal in San Diego, bringing together buyer Westport Capital and seller Horace Properties on the $22.4 million trade of the 245,000-square-foot Center Pointe Business Park in El Cajon. In a worldwide search, the industrial institutional landlord representative and James Renner of Inland Pacific Commercial Properties had to sell institutional capital on a different market and a 50 percent-vacant-but-Class A property. That deal marked an end to a 14-month hiatus for industrial investment deals of that size in the region. "It was a difficult 14 months," Aberg recalled.
And that was just one of Aberg's 2011 successes. In his second busiest year in revenue and largest in volume, the 11-year industry veteran closed 137 transactions totaling almost 1.3 million square feet and valued at $81 million in a market known for smaller distribution and research-and-development properties. Aberg built the largest industrial team in San Diego—from two in 2006, when he recruited his younger brother Brant, the star employee in his father's residential brokerage business, to 10 people. Aberg's latest achievement: recruiting his top competitors, the CBRE Inc. industrial team of Dean Asaro and Andy Irwin.
The property the team works with runs the gamut from biotechnology to regional industrial, manufacturing, distribution and R&D space, but clients include some top institutional names: TA Associates, RREEF, Clarion Partners, East Group, Bixby Land Co., American Property Enterprises, H.G. Fenton Co., LBA Realty, Harsch Investment Properties, C&W Capital, Westport Capital and Westcore Properties.
Aberg, who spent three years after high school traveling the world as a professional surfer before earning his degree in business administration from the University of San Diego and still goes on surfing trips with his family twice a year, takes a methodical approach to business: Four years ago, he developed a flowchart process for evaluating every aspect of the business to ensure accountability to clients and fellow team members, with third parties tracking all outbound calls. "Accountability is I think everything, and it's really helped me to where I am now," he declared.
Memorable Achievements: In addition to closing the Center Pointe deal, Aberg is proud of becoming president of the San Diego chapter of SIOR this year, the second youngest president in the chapter's history, and of his recruitment of the CBRE team. He is also proud of winning the 2010 Wolf Pack Award, Cassidy Turley's recognition for giving back to the company. Peer nominated and voted on by the company, "it's one of the best awards I've won," he noted.
Goals: Make a big difference in industrial real estate and expand his team's reach to dominate not just San Diego but the region.
What Others Say About Him: Having known Aberg since he was fairly new to the business, David Thomas, principal of LBA Realty, has been very impressed with his willingness to work hard in a not particularly glamorous field. His mantra then, Thomas related, was, "You know the job I'm doing by how thin the soles of my shoes are." Now with an organized accountability system that tracks outbound calls and results, Aberg has proven himself a strong team manager and solid with research on distinct submarkets, as well as a good client manager, Thomas said.
Greatest Challenges: "(I) wish there was one more day in the week. I really want to do a lot with my life, hit every possible goal I set for myself and my family, and I just wish there was enough time."
Secrets to Success: Accountability—the strategic process of how he goes about the business. "It's not very secret—I've shared it with my competitors. No one wants to do it. You have to be regimented. You're accountable to yourself, the team and the client. … Accountability is, I think, everything in that it's really helped me to where I am now." Also, hard work. "And there are no short cuts.
Best Advice Received: His mentor, executive managing director Rick Reeder, taught him to strive to be the best he can be and "never be complacent with what you're doing." He was also told: "Don't focus on the money (or how others are doing); focus on the client, and the money will come.
Advice to Others: "You have to be patient—strategically patient." You have to make opportunities happen, but you can't rush the process. Have a clear, defined goal of where you see yourself in five to 10 years and map out how you're going to get there. "Having little milestones where you pat yourself on the back is not a bad thing." —S.S.