Brian O'Neill Jr., 25
Senior Project Manager
O'Neill Properties Group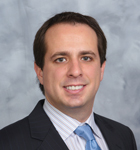 Brian O'Neill grew up attending open houses with his developer father and even interned in his office, but real estate was not his first love. High school jobs included working as an emergency medical technician, and while earning his bachelor's degree at Georgetown University he worked as an investigator for the Public Defender Service and became interested in justice enforcement. Then his father interceded, and O'Neill agreed to try working for him.
O'Neill was immediately assigned to a huge undertaking. Since acquiring a 453-acre parcel in Sayreville, N.J.—formerly occupied by National Lead Industries—in October 2008, the brownfield redevelopment specialist has been working toward developing a $2 billion mixed-use project there to be named The Point. The 8 million-square-foot project will include a 3 million-square-foot mall and entertainment district, 2,000 residential units, 650,000 square feet of office space, high-end hotels and two luxury marinas (it sits on the Raritan River, at the intersection of the Garden State Parkway, Route 1 and Route 49).
O'Neill gradually assumed more responsibility for the project and now handles all aspects. Last June, he signed Bass Pro Shops as the first major anchor in phase I, which will commence construction this summer. At press time, he was anticipating a movie theater tenant, as well. The toughest challenge was convincing prospective tenants the project really was going to move forward, he said. "It's definitely been a lot of work." But Dan Busch thinks he is up to it. "He's probably the smartest client I've ever dealt with," observed the site's project manager, the principal for Maser Consulting P.A.
Memorable Achievements: The team's signing of Bass Pro Shops to 200,000 square feet as the first anchor tenant.
Goals: Keeping the company's projects moving forward, going on to the next one and continuing to build on that.
What Others Say About Him: Dan Busch, principal with Maser Consulting P.A. and the project manager for the 453-acre Sayreville, N.J., parcel that is destined to become The Point, termed O'Neill the "smartest client" he has encountered in his 27 years in business—despite his age—and also praised his ability to work with political officials and to interpret and negotiate with contractors.
Greatest Challenges: "Development is one big challenge! Coming out of college, I used to think I knew a little bit about real estate, and now I realize I know absolutely nothing. "There's no playbook you can read that'll tell you exactly what you need to do … in development. … There's always a new challenge that comes up."
Best Advice Received: The big theme in the company's office, handed down from his father, Brian O'Neill Sr., is to "always be persistent." Their mantra is "CFM: constant forward motion." The No. 1 thing his father has taught him, personally, is, "Even when things don't go your way, you've got to keep pushing through it."
Advice to Others: "Keep pushing forward—it'll get done." And "it's never going to get done the way you think it'll get done, and nothing's ever the way you plan it." —Suzann Silverman