By Eliza Theiss, Associate Editor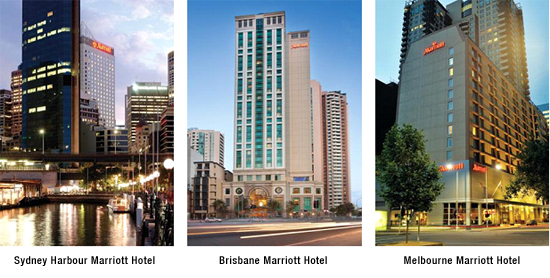 Starhill, a listed Malaysian REIT, has closed on an A$415 million acquisition of three premier Australian hotel properties: Sydney Harbour Marriott Hotel, Brisbane Marriott Hotel and Melbourne Marriott Hotel. Totaling 1,106 rooms, the portfolio represents Starhill's first acquisition in Australia. Global law firm Baker & McKenzie advised Starhill on the deal that made the REIT the largest overseas portfolio owner in Malaysia. More than half of the company's property value is now made up of hotel properties in Australia and Japan.
Starhill entered the deal to purchase the hotel and all of their business assets from previous owners  Commonwealth Managed Investments Limited, 30 Pitt Street Pty Limited, 515 Queen Street Pty Limited and Lonex Pty Limited in mid-June 2012, according to a press release. The purchase price of A$415 million was determined based on independent assessments made by Colliers International Consultancy and Valuation Pty Limited. Payment will be made in cash through a combination of bank borrowings and cash balances. According to a press release, the purchase is the largest hotel portfolio acquisition by value in Australia.
"The acquisition provided a vote of confidence in the Australian hotel market," said Roy Melick in a statement.  Melick, a partner at Baker at McKenzie's Sydney office led the team handling the deal. Other partners involved include John Walker, Amrit MacIntyre, and Tim O'Doherty. Lawyers Daniel Arapere, Matthew Wrigley, Angela Cowan, Robyn Nairn, Belinda Barnes, Miles Hurst, Kerryn Kahler, Shen Yin and Kylie Wilson were also part of the team advising on the deal.
Corrs Chambers Werstgarth acted for the vendor. The law firm is present in Australia's major cities and has partnerships across the APAC region.
Located on 33,196 square feet of freehold land on Pitt Street, in Sydney Central Business District, the Sydney Harbour Marriott Hotel is a 563-key, 33-floor five-star hotel boasting an AAA tourism rating. The hotel overlooks the Sydney harbor and the Sydney Opera House and features 15,177 square feet of meeting space, including 18 meeting rooms, fitness center, spa, indoor pool. Dining options include the Icons Brasserie, specializing in local cuisine, the 162-year-old Customs House Bar, a historic local pub and the Macquarie Lounge, a coffee house and lobby lounge.
Located in the northern part of Brisbane's Central Business District, Brisbane Marriott Hotel occupies 16,490-square-feet of freehold land. The 267-key, 16-story building is a five-star hotel with AAA rating as well. Amenities include 7,750 square feet of meeting space, including 10 meeting rooms, the Brisbane Marriott Hotel Gym, indoor/outdoor connecting pool, whirlpool and spa. Dining options include two locations offering international cuisine the M Bar and Motion Bar and Grill.
Similarly to the other properties in the portfolio, the 186-room five-star Melbourne Marriott Hotel also boasts an AAA tourism rating. The 16-level property is located in Melbourne CBD at the intersection of Exhibition and Lonsdale Streets. Amenities include 4,650 square feet of meeting space, six meeting rooms, the Melbourne Marriott Fitness Center, indoor atrium pool and whirlpool. Dining options include Essence on Exhibition with its modern Australian cuisine, international cuisine Elements and the Espresso Bar.
The properties are operated by global hotel operator and franchisor Marriott International, Inc.
Established in 20005, Starhill was listed on the Main Market of Bursa Malaysia Securities Berhad the same year. Excluding the newly purchased Australian property assets, Starhill owns 10 hospitality and hospitality-related properties in Malaysia and Japan, totaling 2,690 rooms.