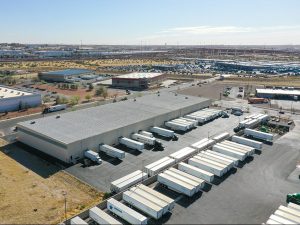 Blue Road Investments has sold a four-building industrial portfolio totaling 326,166 square feet across the El Paso market. STAG Industrial acquired the fully leased portfolio through a transaction arranged by JLL Capital Markets.
In the 12-month period ending in July, 34 industrial properties encompassing nearly 4.3 million square feet traded throughout the El Paso market, CommercialEdge data shows.
---
READ ALSO: Industrial Developers Tackle Construction Challenges
---
Coupled with Las Cruces, N.M., and Ciudad Juarez, Mexico, the area is also known as the Borderplex region, the seventh-largest manufacturing hub in North America. Due to the El Paso market's robust logistics footprint and its favorable location (along Interstate 10 and equidistant from Houston and Los Angeles), it is one of the top emerging industrial markets.
The El Paso industrial market closed the second quarter with a 1.4 percent vacancy rate with 350,451 square feet of positive net absorption, according to CBRE. The low industrial vacancy rate represented a 10-basis-point decline over the previous quarter as well as a 240-basis-point decrease compared to the second quarter of 2021.
The four-building portfolio
STAG Industrial's acquisition includes four properties completed between 1974 and 2004:
The 80,000-square-foot distribution facility at 9494 Escobar Drive in El Paso, Texas, which is fully leased to Siemens and Forward Air
The 92,000-square-foot warehouse at 150 Earhardt Way in Santa Teresa, N.M., which is fully occupied Erickson Metals of New Mexico Inc. and two other tenants
The 51,160-square-foot distribution facility at 9555 Plaza Circle in El Paso, Texas, which is also fully occupied by Roldan Brokerage Group, Global Forwarding and one other tenant
The 102,064-square-foot warehouse at 9571 Pan American Drive in El Paso, Texas, leased to Tecma
Blue Road Investments entered the El Paso market with the acquisition of 9494 Escobar Drive in March 2019, followed by the purchase of 150 Earhardt Way and 9555 Plaza Circle. Based on El Paso County records, the Dallas-based seller acquired 9571 Pan American Drive from Tecma Group of Cos. and sold it to STAG Industrial within the same day.
Blue Road Investments is also an active developer within the area. The company completed Westpark Building 1, a 315,000-square-foot speculative project at 655 Industrial Ave. in Santa Teresa, N.M., last year. Shortly after delivering the Class A facility, the company also secured two tenants for the building: Tecma and Ergomotion.
The 364,000-square-foot Westpark Building 2 at 550 Industrial Ave. with a cross-dock configuration is currently underway with more buildings planned for the industrial park, CommercialEdge data shows. In the second quarter, 20 industrial projects totaling 6.3 million square feet were underway across the metro, with 4 million square feet of spec projects and only 2.3 million square feet of build-to-suit developments, CBRE data shows.