September 14, 2011
By Barbra Murray, Contributing Editor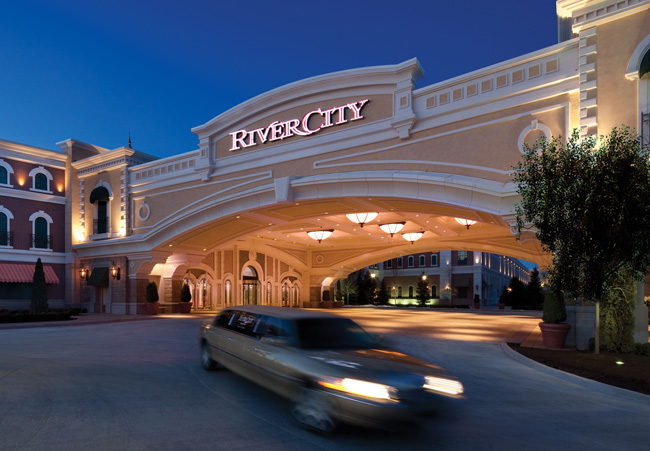 It's been just shy of 18 months since River City Casino first opened its doors and already, the suburban St. Louis gaming destination is in expansion mode. Owner Pinnacle Entertainment Inc. has revealed plans to shell out $82 million to provide new accommodations and enhance offerings at the property in Lemay, Mo.
At River City, the aftermath of the Great Recession has not put a damper on the success commonly experienced at new casinos. "They're still ramping up revenues, and they have been up every single month since it opened," Jacob Oberman, director of gaming research and analysis with CB Richard Ellis' Global Gaming Group, told Commercial Property Executive.
Developed by Pinnacle at a cost of approximately $380 million, River City made its debut in March 2010, having sprouted up on a 56-acre parcel that was once home to National Lead Co. Located just 10 miles outside of downtown St. Louis at 777 River City Casino Blvd., the property features a 90,000-square-foot casino, several restaurants and lounges and parking space to accommodate roughly 3,000 vehicles. Public response to River City has compelled Pinnacle to give the people more of what they want. The company's expansion project, which is being financed with private funds, will yield a 200-room hotel, a 10,000-square-foot multi-purpose event center and a 1,700-space parking facility.
"We have continued to garner very favorable guest responses for the gaming, dining, entertainment and other guest amenities featured at the property," Neil Walkoff, Pinnacle's senior vice president responsible for River City Casino and its sister property, Lumière Place Casino & Hotels, said. "The addition of a hotel, multi-purpose event center and covered parking highlights our commitment to distinguishing the property, will further elevate the level of leading guest amenities offered at River City, and benefits our efforts to grow our customer base in the market."
Adding a lodging alternative to a gaming destination that has none is a tried and true method of increasing customer base. "Regional style casinos will build hotels mainly to stimulate casino play in two different ways," Oberman said. "One, by bringing in visitors from outside the 50- to 100-mile radius — if you don't have a hotel, it's difficult to get those groups — and two, by acting as an incentive, because you can offer local customers complementary hotel stays, which has a multiplier effect on their play. The incremental play Pinnacle can get from the casino justifies the investment."
Pinnacle plans to commence construction of the expansion project in the first quarter of 2012. The new additions are on schedule to be available to visitors in the second half of 2013.