By Gail Kalinoski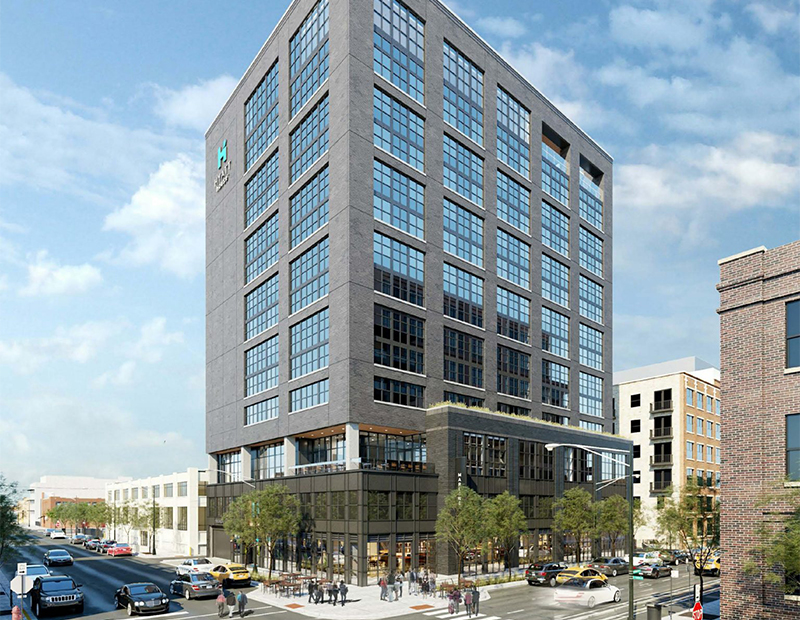 Construction has begun on a 14-story, 200-key Hyatt House hotel in Chicago's West Loop. The 167,000-square-foot hotel will be the first extended-stay lodging in the city's Fulton Market neighborhood.
Sterling Bay, a Chicago-based real estate development and investment firm, is developing the hotel at 105 N. May St. Skender, which has offices in Chicago and San Francisco, is serving as the base building and interior construction manager. The project architect is Eckenhoff Saunders Architects, also based in Chicago.
The hotel is scheduled to open in the summer of 2019 and will have a first-floor lobby and space for retail. Guestrooms will be on floors four to 13. The indoor pool, workout center and lounge will be located on the 14th floor.
The hotel's exterior cladding will comprise hand-laid masonry, precast concrete panels, unitized window wall systems, metal panels and an intricate storefront system, according to a Skender news release.
Skender has constructed its own headquarters at 1330 W. Fulton, known as Fulton West, and Sterling Bay's headquarters, both in the Fulton Market neighborhood. The firm also built spaces for Google's regional headquarters at 1KFulton, a 10-story, 531,194-square foot building developed by Sterling Bay, and other companies like Glassdoor and The Climate Corp.
Sterling Bay Moves
Sterling Bay has been active in the Fulton West neighborhood for several years. In addition to the Google site and Fulton West, the company is redeveloping Oprah Winfrey's former Harpo Studios property as the future McDonald's Corp. global headquarters. Sterling Bay also acquired 600 W. Chicago Ave., a 1.6 million-square-foot Chicago office tower, in a deal valued at $510 million. It is the firm's largest purchase in its 22-year-old history.
Hyatt House Brand Grows
For the Chicago-based Hyatt Hotels Corp., the Fulton Market hotel will be among the company's numerous new Hyatt House properties. The hospitality giant expanded the Hyatt House and Hyatt Place brands in the U.S. and in international markets by 42 percent over five years. Locations of new Hyatt Place and Hyatt House properties in the U.S. included Austin, Texas; Boise, Idaho; and Chapel Hill, N.C., while international locations included Edmonton, Alberta; Rameshwaram, India; and two locations in China. As of late January, there were more than 85 Hyatt House locations throughout the U.S., China, Germany, Mexico, Turkey and Puerto Rico, including the first Hyatt House in New York City.
Image courtesy of Skender