By Anna Spiewak, Senior News Editor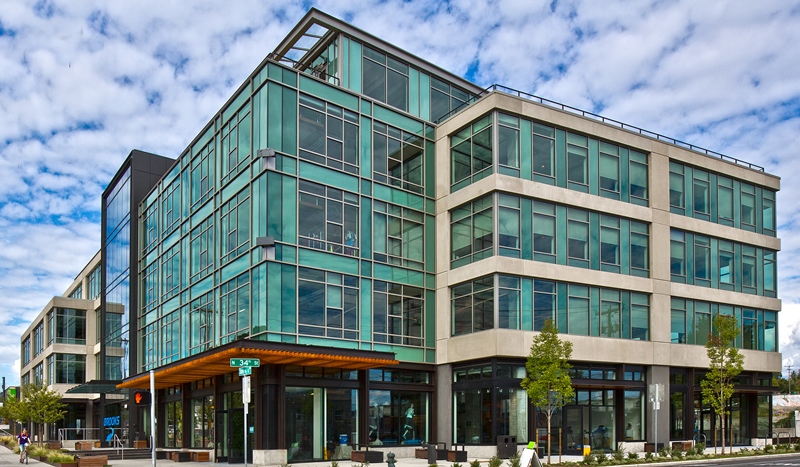 National development company Skanska USA has sold its first Seattle property, Stone34, to a joint-venture buyer Unico Properties and the Laird Norton Properties for $70 million.
Completed in the summer of 2014, the mixed-use office and retail building at the corner of Stone Way and North 34thStreet includes 22,000 square feet of retail space, and more than 8,000 square feet of outdoor gathering space, parking stalls, biking stalls, four electric car charging stations and landscaping, according to a news release. Its current flagship retail tenants include Brooks and MiiR.
"It's a great time to sell in this cycle and we found a great buyer for the asset that really has a local emotional tie to the building," Lisa Picard, a developer at Skanska USA told Commercial Property Executive.
3400 Stone Way was part of Seattle's Deep Green Pilot Program, which requires water and energy use to be reduced by more than 75 percent to comparable buildings. Stone34 is pre-certified LEED Platinum and includes hydronic heating and cooling systems, stormwater capture and reuse and a building design that increases lighting, as well as reduces summer heat loads.
Skanska has two development projects under construction in Seattle, one in the city's South Lake Union neighborhood and another in Bellevue, Wash.
"(Seattle) has a great quality of life and superior dynamics for long-term job growth; the core ingredients for development," Picard added.
In addition to the Seattle market, Skanska USA is also building a painting facility in Charleston, S.C. for aerospace giant Boeing. The company is in the midst of developing a 250,000-square-foot science museum in Miami, as well.