November 8, 2011
By Nicholas Ziegler, News Editor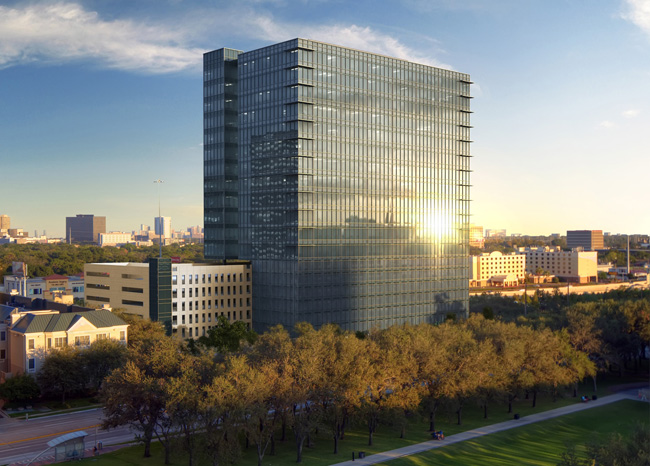 Despite the economic malaise that has been affecting the rest of the country, "Houston has been able to continue strong job and employment growth due to strong economic fundamentals," Michael Mair, executive vice president & regional manager of Skanska USA, told Commercial Property Executive. With that in mind, it's no wonder that his firm is looking to expand its retail footprint in the city – and that's exactly what Skanska is doing.
Yesterday, the firm announced it would be starting construction immediately on a Class A office building at 3009 Post Oak Blvd. in Houston's Uptown submarket. The building, which is planned to be a 20-story, 302,000-square-foot podium design, will feature 12 stories of office space atop eight floors of parking.
"We have the highest confidence in the future of Houston's economy," Mair said. "Uptown Houston is one of the largest business districts in the United States."
Reports back Mair's claim. According to a local profile by services firm Jones Lang LaSalle, the Houston office market "is showing impressive growth signs with sustained to increased activity backed by a diversified, stable economy." Sales activity has nearly doubled, leasing activity remains robust, and positive absorption is anticipated to increase. "Until new buildings are delivered," the report concludes, "and as quality availabilities diminish, concessions will continue to dry up and effective rates will increase in Houston's strongest submarkets."
The new structure will be built to LEED Platinum standards, featuring a high-efficiency glass façade and occupancy monitoring systems that will minimize energy use.
While the firm has not yet signed tenant leases for the 100 percent self-funded project, Mair is confident the roster will be filled easily. The prime sub-market "has not seen a new office building delivered in the Galleria for 25 years," he notes, and with the low vacancy rates as well as the demand for new office structures, "there is a definite need and demand for a highly efficient Class A development."
Skanska will be the project's construction manager and the services of Kieksey Architecture have been retained. Cassidy Turley will provide property-management services.