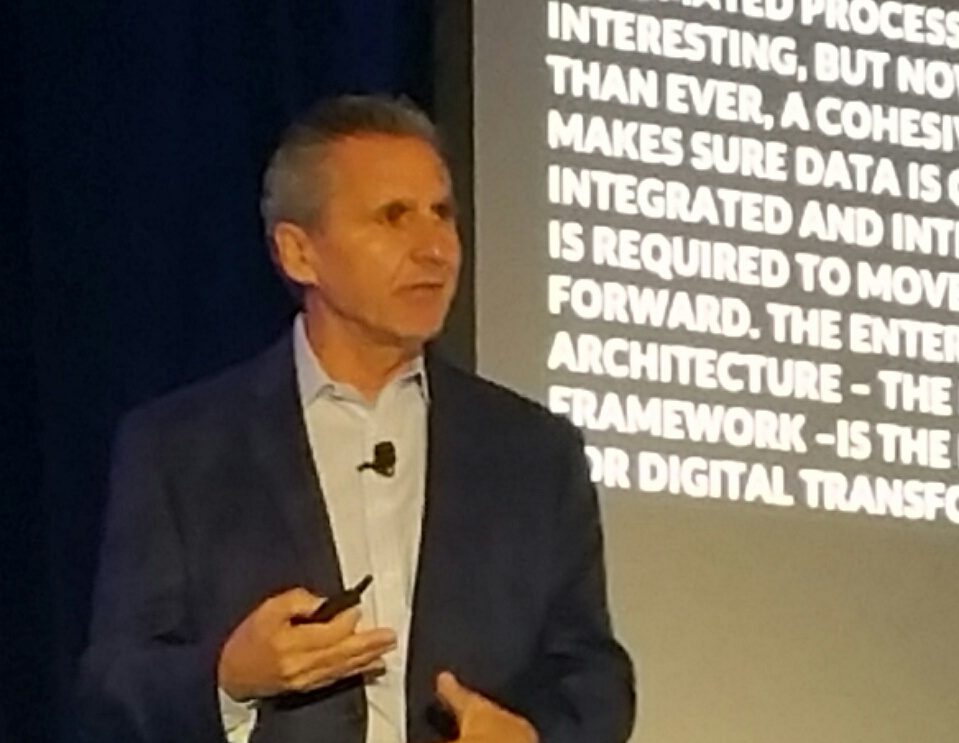 Technology took center stage at the opening session of the Institute of Real Estate Management's Global Summit in San Francisco Tuesday afternoon. Realcomm founder & CEO Jim Young urged the hundreds of management professionals in the audience to seize the opportunities and challenges of the digital revolution or risk falling behind.
"This has been a steady journey and it's getting more complex every day," Young asserted. Even after working for decades at the intersection of technology and real estate, he acknowledged: "I struggle keeping up with this sometimes."
In his wide-ranging talk, Young addressed the top trends that real estate managers will face in 2019 and 2020:
Space as a service. Young advised his audience not to be misled by the detours experienced by WeWork as part of its initial public offering or by the departure of the shared space provider's CEO, Adam Neumann. The underlying premise—to make full use of underutilized office space—remains sound, he contends. "Coworking and shared space are not going away," Young said. "If you're not looking at shared and flex space for your operation, you're missing out on a major opportunity."
Digital vs. brick and mortar across asset categories.
Enhanced occupant experience. Today's tools provide unprecedented power for tenants to shape the building's environment—temperature, lighting, access and more. That, in turn, is crucial to tenant satisfaction. "If you're not allowing someone to take control of the building through a cellphone, you're missing an opportunity."
Conflicting trends regarding privacy. What are the legal and ethical issues related to facial recognition technology, for example?
The digital transformation. Building occupants no longer want to deal with paper. The capacity to communicate with building management at the speed of light is increasingly taken for granted. Young cited ExxonMobil as an example of an occupant that is using GPS and sophisticated location tracking to modernize their maintenance strategy.

Image courtesy of Markus Spiske on Unsplash

The Internet of Things. Young's prediction: Five or 10 years from today, "every electrical and mechanical device, the fire extinguisher and the parking gate, will all be on those systems."
The proptech boom. "I don't think the industry can support 3,000 companies," Young said. Over the next six months or so, venture capital will be ratcheting up the scrutiny of their investments in the niche.
The smart building convergence.
Enterprise architecture as the foundation of digital transformation.
Big data and 5G. "It's coming at us like a slow freight train, but it's still coming."
Emerging technologies. Augmented reality, artificial intelligence, robotics. "You have to have someone on your team paying attention."
Tech talent. Too few professionals are being trained with the technology skills necessary to operate today's highly sophisticated properties. "These buildings are getting smarter and smarter, and we need smart people to run them."
Competition from China's technology. "My guess is that they're three, five, seven years ahead of us." Young's suggested strategy: Recognize that the race for technology is on, "that people want to beat us, and that we need to get back on it."
Understanding what's next. Young cited the prognostication from the investor, economist and futurist George Gilder, who contends that the centralization of technology, epitomized by the cloud, will give way to a more decentralized approach.