By Sanyu Kyeyune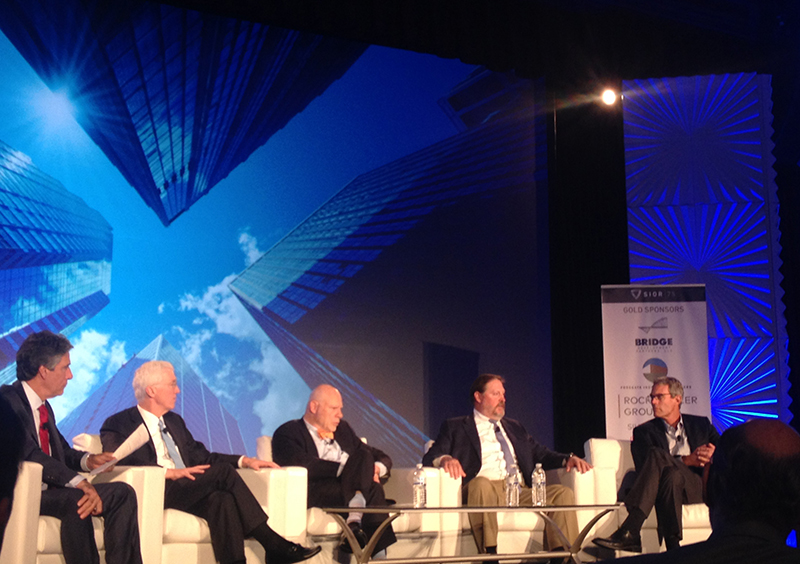 New York –Commemorating its 75th anniversary, the Society of Industrial and Office Realtors (SIOR) met in New York City from Oct. 19-21 to discuss the changing face of commercial real estate and what lies ahead. Buzzworthy topics included trends impacting industrial and office developers, REITs and investment managers; game-changing technologies and the impending presidential election.
Catering to the Coming-of-Age
As Millennials come of age, panelists noted, their needs begin to reflect what the suburbs can offer. Daniel Rashin, president & CEO of Rockefeller Group International Inc., commented, "Millennials have graduated from 'live, work, play' to 'live, work, educate,' as in educating their children." He suggested that the desire for Millennials to live near good schools will increasingly draw them to the suburban office environment.
Chairman & CEO of Time Equities Francis Greenburger chimed in about the workspace amenities most coveted by Millennials. Referring to current projects, he said, "We find ourselves 'amenitizing' suburban office buildings to allow people to work when they want, where they want, how they want. We look at not only food but quality of food because the old-style cafeteria just doesn't cut it. People are interested in fitness, so we need to have a convenient fitness center where people can work out."
At Greenburger's firm, he continued, "we're developing what we call a 'work lounge' for the laptop generation, who don't always like to stay at their desk. They can go into a different environment, get a cappuccino at the coffee bar and sit in an interesting ergonomic chair. They need the chance to be mobile, to work and play at the same time. We find Millennials are responding to this."
Matching Industrial Supply with Demand
On the industrial side, panelists shared a number of challenges, foremost demand outpacing supply. "The business has become more institutionalized, with information more transparent and readily available. There's still a bit of memory from the downturn and people are just a lot more conservative about how many new buildings they're going to put out there," said Larry Harmsen, COO of the Americas at Prologis. According to Harmsen, industrial developers are facing more obstacles to financing, leading them to inject deals with more equity, which intensifies risk, especially for ground-up projects.

Another constraint to supply is the general public's wariness toward the construction of industrial properties in their communities. "They don't understand the supply chain. They want everything tomorrow, but they don't want the facilities that supply it," said Whitfield Hamilton, partner at Panattoni Development Co.
Fortunately, an uptick in build-to-suit activity, which comprises about half of Harmsen's and Hamilton's business, has alleviated some of the financial risks associated with new development.
While the discussion focused on supply, the demand side was more concerning for Alex Klatskin, general partner at Forsgate Industrial Partners, a firm that matches e-commerce retailers with industrial space. When asked what his tenants care about, he responded, "They want proximity to the customer. That's it. Industrial used to be a cost item. Now they see it almost as a revenue generator because you can substitute speed for cost."
Leveraging Disruptive Technologies
Speaking on a panel about technology, Andrew Florance, CEO of CoStar, and Jeff Frieden, chairman of Ten-X, agreed that transportation technologies would have the most profound effect on real estate. As Florance said, the driverless car, brought to prominence by Elon Musk of Tesla, would have the greatest impact. According to Frieden, the Hyperloop, a high-speed ground transport network, would increase connectivity, pointing to a meaningful shift away from urban cores. Hightower CEO Brandon Weber offered 3D printing as a catalyst to faster construction, referencing Winsun, the Shanghai-based firm that built the world's first 3D-printed villa and the tallest 3D-printed apartment building last year.
According to Florance, emerging technology could compromise the role of the broker by simply eliminating the need for one. Weber took a softer approach, suggesting brokers could harness the power of technology, playing the role of advisor, rather than facilitator, in commercial real estate transactions. Frieden, on the other hand, was more optimistic than his fellow panelists about the irreplaceable knowledge that brokers possess, citing simply, "Brokers will be fine."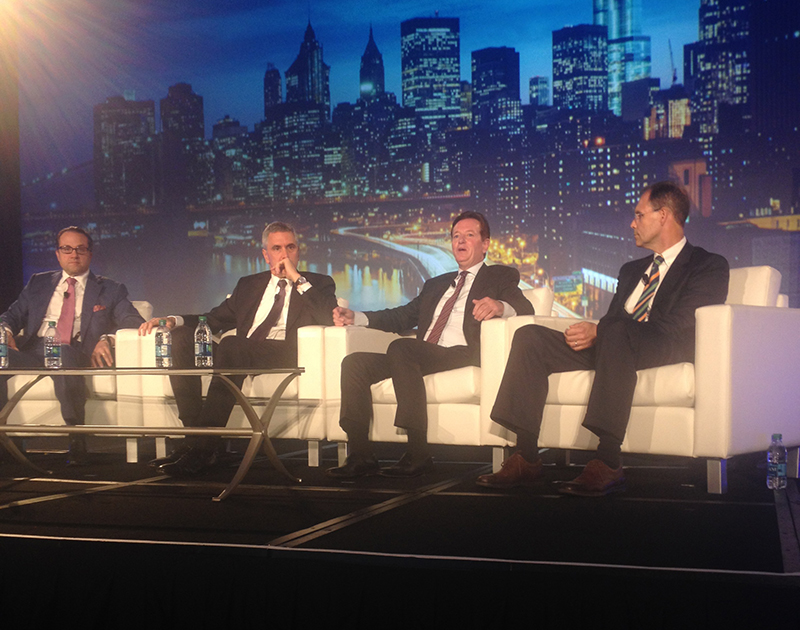 Crafting Long-Term Investment Strategies
Amidst an increase in high-frequency trading and a shorter time horizon for investment analysis, speakers on the REIT panel (pictured) discussed their strategies for the long game.
Jason Fox, president & head of investments at WP Carey, identified diversification – not only in geography and asset type but also in access to capital – as a key success factor. "That's what a public REIT is," said Fox. "It's going to live and die by its cost to capital."
Diversification kept Fox's firm afloat through the downturn. Even in 2009, he recalled, his company was raising multiple millions per day from investors seeking income and capital preservation without the volatility of a publicly traded stock. In this environment, WP Carey was able to purchase the only property it owns in Manhattan, the New York Times skyscraper, which it acquired at an 11 percent cap rate and $300 per square foot. Compared to its current valuation, which Fox estimates at $1,200 per square foot, the acquisition was a steal.
Responding to New Regulations
Recently implemented taxation rules also factored into the discussion. Earlier this year, the IRS introduced a corporate-level tax on conversion transactions involving tax-free spinoffs between corporations and REITs. Panel moderator Ted Jones, chief economist & senior vice president for Stewart Title Guaranty Co., hinted that the tax advantages that REITs currently enjoy may not stick around for much longer. For that reason, Jones said, REITs will need to pursue more aggressive monitoring of real estate taxes.
Investment managers, who led a panel discussion on private equity, also expressed concerns about changes in taxation. Specifically, they pointed to the issue of how legislation characterizing promoted interest as a fee could diminish profits for project sponsors.
"I think it's pushing people to take more risks. Like me. If I can go through a preferred equity deal and not have a promote because I'm not going to get the same benefit, maybe I will lever up if I like the deal," said Jonathan Schultz, CEO of Onyx Equities LLC. Schultz also commented that the regulations would likely motivate him to pursue business with new types of customers and to structure deals differently.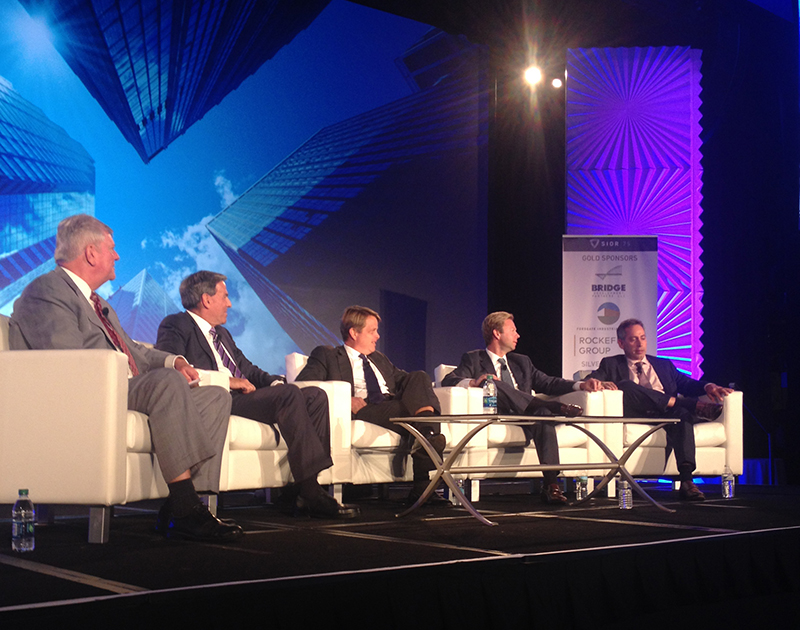 Looking Ahead
To conclude the session, Jones turned the conversation to politics, asking panelists to offer their views of how the upcoming election might impact their operations.
"No markets, particularly real estate, enjoy uncertainty," said Mitch Rudin, CEO at Mack-Cali Realty Corp., a publicly traded REIT. "We've had a little bit of a pause in certain parts of the market. We want to see where this all sorts out."
The SIOR 2016 Fall World Conference brought together companies that have charted the course toward the future of commercial real estate. As foretold over the course of the three-day event, adapting operations to emerging technologies, preparing for a Millennial shift away from urbanization and adjusting financing structures to be flexible in light of changing regulations will likely be agenda items for commercial real estate firms in the coming months.