By Alex Girda, Associate Editor
The opening of Thailand's first retail and entertainment mega-complex has been set. Developer SHOW DC Corp. Ltd. Is finalizing a $265 million investment in ten months and it has high expectations for the project that's taking shape in the Rama IX entertainment district of Bangkok.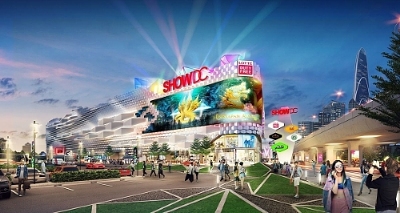 Almost two thirds of the total available space at the SHOW DC development is already leased, although completion for the property is set for June 2016. The project's anchor tenant is YG Entertainment, a company that is responsible for K-Pop acts such as BIGBANG, Psy, and 2NE1. The company is set to manage a 54,000-square-foot rooftop entertainment area that will feature K-Pop themes.
Located on more than 11 acres of land, SHOW DC will total 1.61 million square feet of floor space. Although the project's main focus is to offer shopping and dining venues to its customers, a state-of-the-art Performance Hall that can fit 5,000 people, as well as a 54,000-square-foot sports facility are also part of the complex.
SHOW DC's intention of showcasing the diversity of Asian cuisine is epitomized by its 107,000-square-foot Asian Food Street, a section of the project that includes venues such as After Rain and Psy Ramen, two dining spots that take their names from K-Pop superstars. The shopping dining and entertainment project will also be the home of the largest 'K-Town' outside of Korea.
According to SHOW DC Corp. Chairman, Chayaditt Hutanuwatra, the complex will include a 54,000-square-foot "Fantasy Dreamscape cultural walk-through phenomenon called 'Himmapan Avatar' that brings to life dazzling Thai legends through immersive 4D experiences using the most advanced light, sound and holographic technologies."