Moinian Secures Loan for Largest Manhattan Apartment Tower Under Construction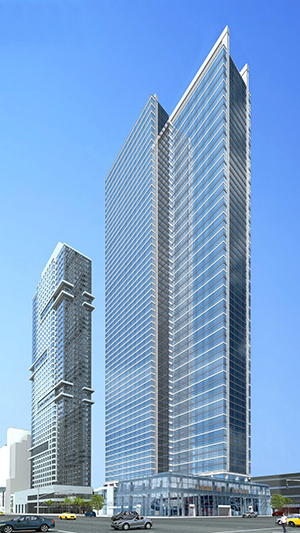 Development of 605 W. 42nd St., The Moinian Group's 1.2 million-square-foot luxury residential tower, can continue now that the New York-based firm has secured a $539 million construction loan. Financing for the 60-story tower at West 42nd Street and 11th Avenue on Manhattan's Far West Side is being provided by the New York State Housing Finance Agency, with credit enhancement from Bank of China and Ullico, a labor-owned insurance and investment company. The Moinian Group also announced that SL Green is participating as an investor in the project. With 1,174 units, the apartment tower is the largest multi-family asset under construction in Manhattan.
Bellwether to Merge with Towle Financial Services
Bellwether Enterprise Real Estate Capital L.L.C. has announced its intention to merge with Towle Financial Services, a full-service mortgage banking firm with offices in Minneapolis and Detroit. The merger takes Cleveland-based commercial and multi-family mortgage banking firm Bellwether into the Upper Midwest, thereby feeding into its growth strategy. The deal is expected to close at the start of September and will add about $400 million in annual loan volume and $1.4 billion in servicing to its business base. It will also bring the company's total annual loan volume to an estimated $2.5 billion, with $8 billion in servicing.
Largo Finances $55M Office and Retail Portfolio
The Largo Group of Cos. has collaborated with SW Consulting in arranging a $55 million permanent first mortgage to refinance the existing debt on a 19-property retail and office portfolio totaling more than 740,000 square feet. The loan was structured as a 10-year fixed-rate permanent first mortgage with a 25-year amortization. Assets are primarily located in Western Michigan, with additional retail plazas in Illinois and Florida.  Retail properties range from single-tenant assets to strip plazas and restaurants, and include national tenants like Best Buy, Dunkin' Donuts, Michael's, Office Max and Stein Mart. The office properties include national, regional and local tenants.
JLL Secures $125M in Debt for East Bay Area Office Center
JLL knows how to reel in the big bucks. The commercial real estate services firm recently obtained $152 million in debt financing from Starwood Property Trust for Swift Real Estate Partners' acquisition of the 1 million-square-foot California Center office campus in Pleasanton, Calif., in the heart of San Francisco's East Bay. The financing consisted of a five-year, floating-rate loan, $106.5 million of which was funded at the closing of the acquisition. California Center is a premier value-add property that came with a $159.7 million price tag when Swift snapped it up from Deutsche Asset & Wealth Management, formerly RREEF, in June in a sale spearheaded by JLL. The 1989-built asset was originally developed to serve as the western regional headquarters of AT&T.
HFF Arranges $95M Construction Loan for Virginia TOD M-F
HFF has arranged $95 million in financing for the development of BLVD at Reston Station, a 21-story, 448-unit luxury apartment building atop the entrance of a new metro station. HFF worked on behalf of Comstock Partners to place the 48-month construction loan with Citizens Bank. Pre-leasing in late 2015, BLVD at Reston Station will be located above the entrance to the Wiehle-Reston East Metro Station, which is the last stop on Phase I of the new Silver Line.
Berkadia Sources $156M in Financing for Capital Senior Living
Berkadia Commercial Mortgage L.L.C. recently worked with Capital Senior Living Corp. to arrange $156.6 million in financing for a portfolio of 15 seniors housing properties located in seven states. Berkadia's seniors housing and healthcare group worked with Fannie Mae to originate $135.5 million for 12 properties located in Texas, Ohio, Missouri, Kansas and Mississippi. Two properties in Shreveport, La., and Oklahoma City landed a $9.3 million loan, while a Canton, Ohio, property landed an $11.8 million loan. Capital Senior Living Corp. operates 113 communities with 14,700 beds.
Cousins Plans $224M Offering to Buy Parmenter's Fifth Third Center in Charlotte
Cousins Properties Inc. plans to use proceeds of a $224.1 million public offering to cover the $215 million cost of buying the 30-story Fifth Third Center in Charlotte, N.C., from Parmenter Realty Partners. The Class A trophy office tower, located at 201 N. Tryon St. in the Uptown submarket of Charlotte, has 697,817 square feet of space and is about 83 percent occupied. Most of the money raised through the public offering will go toward buying Fifth Third Center, but Cousins noted that any remaining proceeds would be used for general corporate purposes, including acquiring and developing office properties, making other opportunistic investments and repaying debt. J.P. Morgan is serving as the sole book-running manager for the offering.
Commercial Mortgage Capital Secures $94M Loan for Norwalk Office Building
Commercial Mortgage Capital has closed a $94 million permanent loan for i.Park Norwalk, a 365,866-square-foot office building in Norwalk, Conn. The loan carries a 10-year term. The interest rate was not disclosed. Located at 761 Main Ave., the property sits on a 30-acre campus at the heart of the Route 7 Corridor, which borders both Wilton and Norwalk, allowing excellent access to Fairfield County. The area is also home to companies such as GE, Factset, Xerox, Arch Chemical, Kodak and ACNielsen.