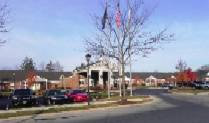 By Barbra Murray, Contributing Editor
With investors' eyes on seniors housing these days, ownership of a three-property portfolio in Indiana became the latest to trade hands. Marcus & Millichap Real Estate Investment Services represented both the seller and the buyer in the $52 million transaction. BAI of Indiana sold the group of assets, accounting for 390 units, to Five Star Quality Care Inc.
Among the three independent and assisted living communities, all of which feature apartments and garden homes, is the 122-unit Forest Creek Apartments, serving St. Francis Hospital and Community Hospital South in Indianapolis. BAI also picked up Covington Commons, a 154-unit campus in Fort Wayne that provides easy access to Lutheran Hospital. Rounding out the group is the 114-unit North Woods Commons in Kokomo, halfway between Indianapolis and Fort Wayne. Located adjacent to the Howard Regional Health Specialty Hospital, the property also sits within close proximity to the St. Joseph Hospital campus. The assets traded for $16.5 million, $21.5 million and $14 million, respectively. The portfolio is 90 percent leased.
Five Star relied on proceeds from a public offering, drawings under a bridge loan and cash on hand to finance the purchase, which also included the assumption of $19.5 million of existing debt. The completion of the transaction follows the healthcare and senior living service provider's acquisition of three other Indiana independent and assisted living communities from BAI for a total of approximately $70.8 million during the second quarter.
The competition to snap up seniors housing properties continues to steepen as investors aim to capitalize on increasing demand for these assets, a demand spurred in no small part by the aging Baby Boomer population. Transaction activity in the sector is growing increasingly strong, with no end in sight. "Investor demand for single modernized facilities will remain high," Marcus & Millichap notes in a mid-year report, "and with this year's building pipeline to remain light, quality assets brought to market will receive multiple offers."