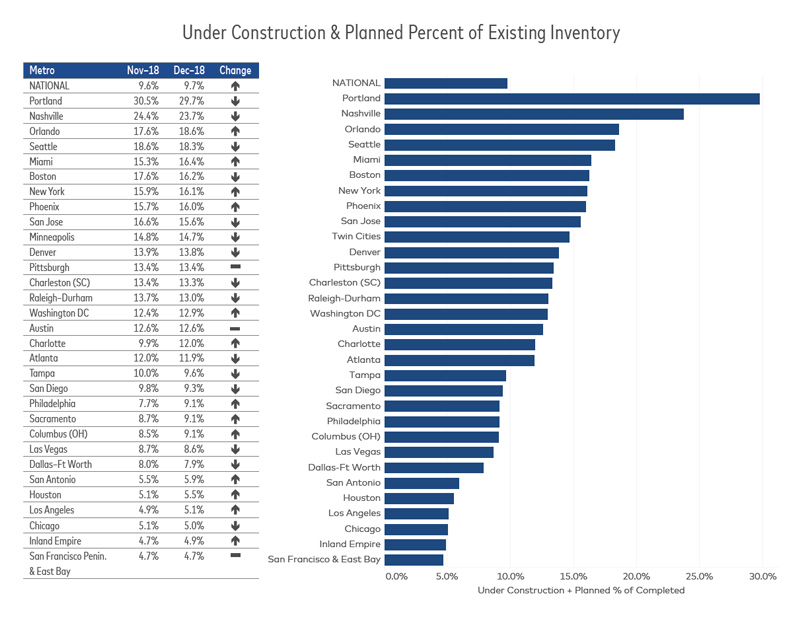 Self storage rents slightly decreased in December, largely reflecting seasonal trends. On a year-over-year basis, street-rate rents dropped by 1.7 percent for 10×10-non-climate-controlled and by 1.5 percent for climate-controlled units of similar size. Markets in the Southwest and in the Northeast, however, continued to gain momentum. Rents in Las Vegas surged 5.2 percent year-over-year in December. Demand is also continuously increasing in New York City, where rents grew by 3.6 percent over the past year─three times the previous month's growth rate.
Due to limited supply, asking rents remained the highest in major California metros, such as San Francisco ($190), Los Angeles ($180) and San Jose ($179). Nevertheless, asking rents dropped between $1 and $2 in most markets over the past month. Seattle experienced the largest drop in asking prices, from $154 in November to $151 in December.
The new development pipeline has been slowing over the past few months as prospective facilities have advanced in the development phases. On a national level, units under construction and in the planning stages represent 9.4 percent of the existing storage supply, which marks a 30-basis-point decline since December. Development activity has somewhat decelerated in Florida, due to delayed projects. In January, the new-supply pipeline equated to 17.4 percent of total stock in Orlando and 15.8 percent in Miami.
Markets with growing new-supply include large gateway cities in the Northeast, where the existing inventory per capita is still lower than the national average. New York City remains the most undersupplied market with an inventory of 3 net square feet per capita. The current stock of units under construction and in the planning stages account for 16.3 percent, which stands for a 20-basis point increase compared to the previous month. Strong economic fundamentals and employment growth continue to fuel development in Portland, Seattle, as well as in Nashville, where the new-supply pipelines account for 29.7, 17.6 and 23.7 percent of total stock.