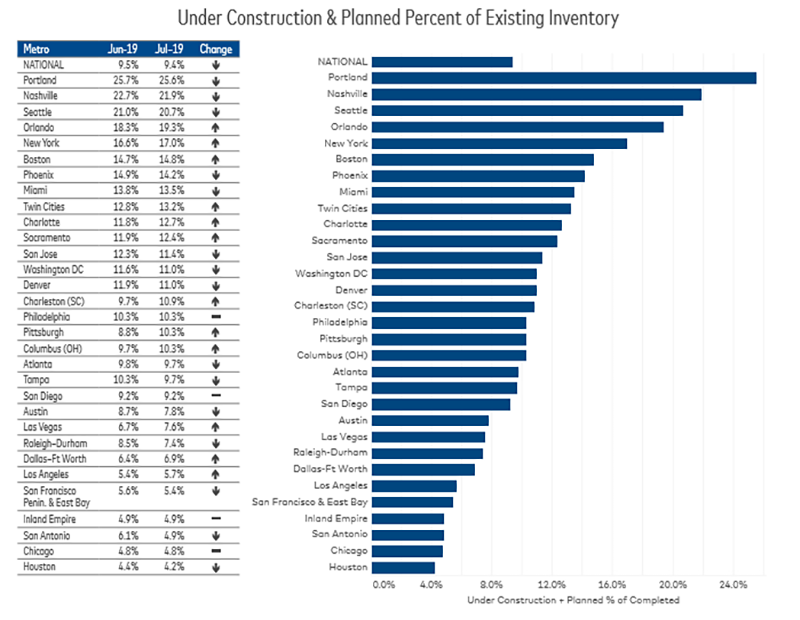 Although rent declines were moderate in the first half of 2019, and some markets have seen year-over-year growth, heavy new deliveries are expected to put increased pressure on rents over the summer. On a year-over-year basis, national street rates decreased by 1.7 percent as of June for standard 10×10 non-climate-controlled units, and by 2.9 percent for climate-controlled units of similar size.
Over the past 12 months, street rates dropped in around 60 percent of the markets tracked by Yardi Matrix. Pittsburgh and Houston experienced a substantial decline, street-rate rents decreased by 7 and 6 percent, year-over-year. Houston is struggling with oversaturation, while unfavorable demographic trends are hindering growth in Pittsburgh. Asking rents were highest in West Coast markets, where development activity is still low, such as San Francisco ($194), Los Angeles ($185), San Jose ($180) and San Diego ($157).
Nationally, projects under construction or in the planning stages account for 9.4 percent of total inventory, representing a 10-basis-point fall over the previous month. Nonetheless, several metros have experienced heightened development activity. Pittsburgh is leading the way, where projects under construction or in the planning stages represent 10.3 percent of existing stock, showing a 150-basis-point increase since June. Although the metro's emerging tech scene is driving growth, and the existing inventory per capita is lower than the national average (4.5 net rentable square feet), developers should be cautious not to overbuild, because domestic out-migration is still hurting Pittsburgh and nearby communities.
In Las Vegas, a favorable business environment and affordable cost of living are attracting young professionals, as well as retirees, driving demand both for multifamily and storage. The city's new-supply pipeline accounts for 7.6 percent of existing inventory, a 90-basis-point increase over June.