By Samantha Goldberg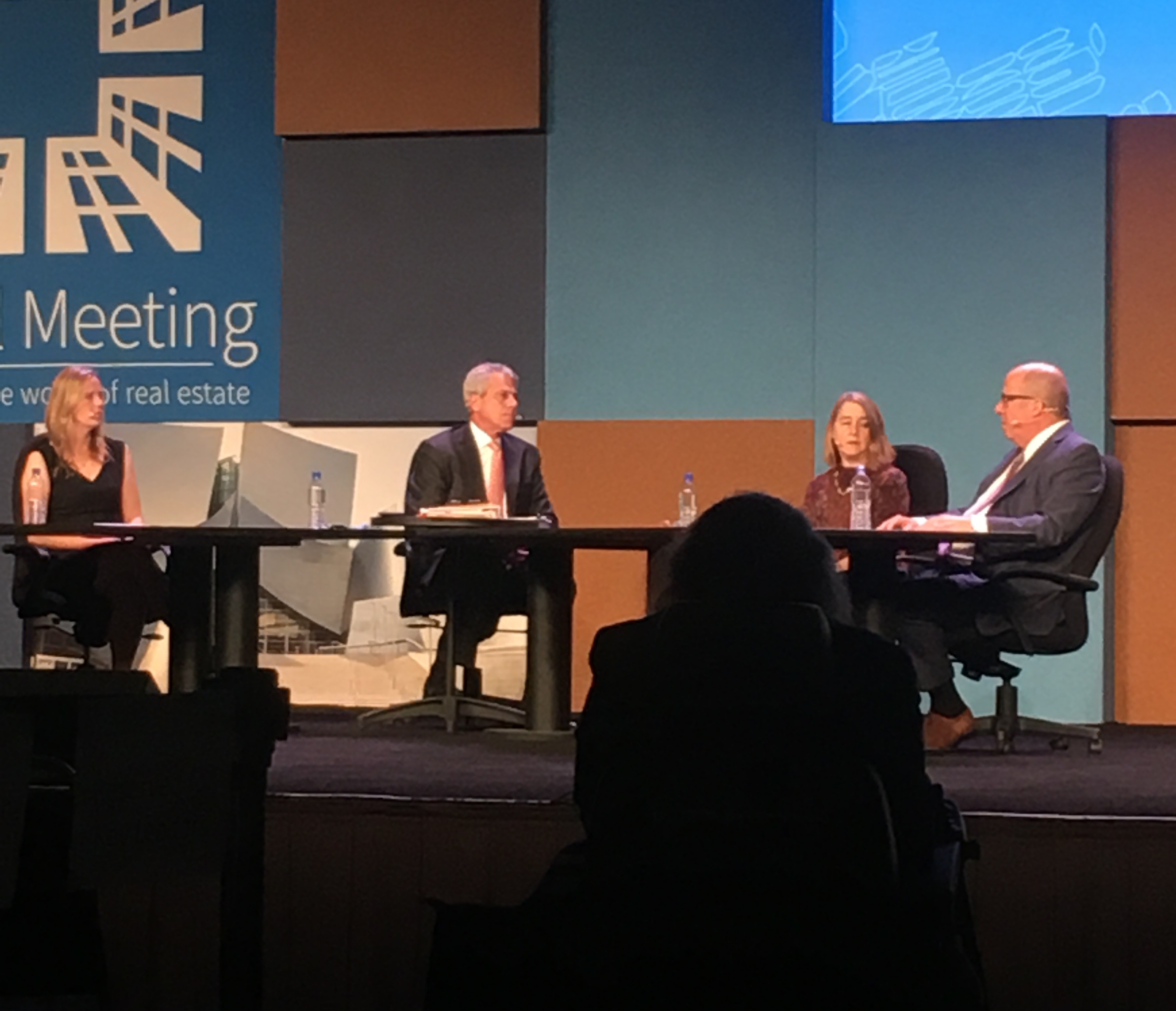 While many think of the "top cities" as the major gateway markets, smaller, secondary markets are emerging as the next hot metros, according to the ULI and PwC Emerging Trends in Real Estate 2018 report, revealed this year at the 2017 ULI Fall Meeting. Seattle took the top spot, due to its job opportunities, young and educated workforce, and diverse economy. Austin moved to the No. 2 spot, followed by Salt Lake City, which made its debut in the top 10. Manhattan had the largest drop in the rankings, moving to No. 46, with many survey participants noting the high prices of assets and the over-saturation of construction activity in the market. 
The full top 10 includes: Seattle, Austin, Salt Lake City, Raleigh/Durham, Dallas/Ft. Worth, Fort Lauderdale, Los Angeles, San Jose, Nashville and Boston.
"The trend of smaller markets displacing larger ones as investment hubs is setting a new course for urban development that is reshaping cities across the nation," said ULI Global CEO Patrick L. Phillips. "These cities are positioning themselves as highly competitive, in terms of livability, employment offerings, and recreational and cultural amenities."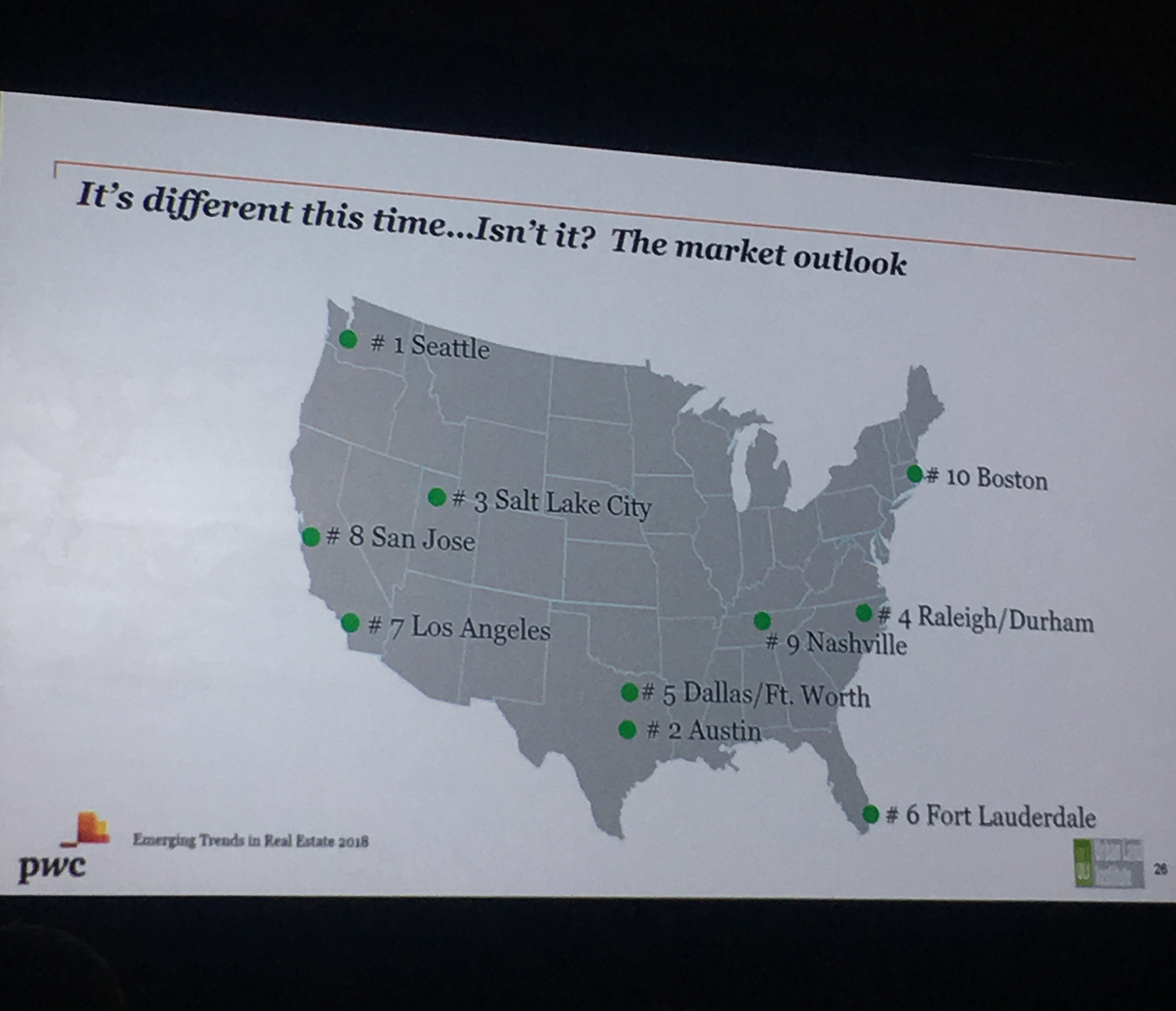 At a panel discussion about the report, AECOM Executive Vice President & Chief Executive Christopher Ward added that secondary cities are especially appealing to the younger generation. 
"Mature markets like New York City and LA are simply too competitive to find the right housing, to find transportation solutions, to find the quality of life you can balance so the secondary markets are going to continue to see growth in the next five to seven years," he said. 
He noted however, that these smaller cities topping the report's list, like Salt Lake City, need to adapt as they capture more growth. "They're still going to need the financial capacity to build the quality of life cities have to provide, otherwise they fail as cities."
Top Trends
Panelists also debated some of the emerging trends identified in the report, including:
Slow but sustainable expansion: While initially upset that we weren't seeing faster economic growth during this recovery, Heitman Director of Global Investment Research Mary Ludgin pointed out that slow growth isn't necessarily a bad thing. "What happens in economic cycles, they end not because they get too long, they end because they overheat," she said. "From a real estate investment perspective, it's not bad that (GDP growth) has been stuck between 2 and 2.8 percent."
Younger generations impacting office demand: With 47 percent of Millennials freelancing, the office sector has been pressured to change the way workplaces are designed, including offering flexible and collaborative spaces, as well as shorter-term leases, noted Kate Bicknell, senior vice president at Forest City. But with Gen-Z being the next cohort to enter the workforce, office owners will have to meet their unique needs. As native technologists, "Gen-Z seems to work much differently," added Mitch Roschelle, partner at PwC. "When the Gen-Z folks enter the workplace…they may want a door."
Housing shortage: Older Millennials are beginning to look into homeownership while Baby Boomers are staying in their houses longer, creating pent up demand for housing that is not being met by the amount of new supply. Rising construction costs and a labor shortage are contributing to the lack of housing inventory. "We have a national crisis in terms of training people for the new economy," Ward said. 
Retail isn't going anywhere. While many headlines assert that retail is nearing its end, physical stores can still be viable if they include experiential components, noted Bicknell. Retailers and retail real estate owner-operators are in the midst of figuring out how to "deliver experiential retail that really resonates." Ludgin also noted that many power centers are performing well, especially those with discount retailers. "We're not all going to buy online, treasure hunt remains an important part of the business in the discount realm."
Download the full report.