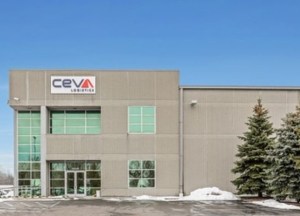 Sealy & Co. continues the rapid enhancement of its national industrial portfolio, most recently with the expansion of its presence in metropolitan Detroit.
The company has just acquired AeroPlex One & Two, a fully leased industrial complex totaling 600,000 square feet in Romulus, Mich. Nemer Property Group was the previous owner of the modern logistics buildings, according to CommercialEdge.
AeroPlex One & Two, which encompass 300,000 square feet each, tick all the boxes under the location category. Sited roughly 20 miles from Detroit's central business district, the complex occupies a total of approximately 40 acres across from the Detroit Metropolitan Wayne County Airport near the intersection of the well-traveled Interstates 94 and 75. The property is also within easy reach of four premier rail lines and the Willow Run Airport, one of the largest airports in the U.S. for landed air freight flown by exclusively cargo aircraft.
---
READ ALSO: The Impact of Interest Rates and Inflation on Industrial Real Estate
---
"Demand for warehouse remains high in Southern Wayne as the submarket is a major logistics hub given reachability to other major Midwest markets and Detroit Metro Airport," according to a first quarter 2022 report by Newmark. "Southern Wayne's 16.5 million-square-foot Class A bulk warehouse market remains strong with vacancies at just 0.03 percent." Jaycee Logistics leased 30,000 square feet at AeroPlex One during the first quarter, claiming one of the last remaining vacancies in the submarket.
AeroPlex One, which carries the address of 10049 Harrison Road, opened its doors in 2001 and features roughly 12 percent office space, as well as 89 dock doors and seven drive-in-doors. AeroPlex One delivered in 2003 with 76 dock doors and six drive-in doors, and presently has designated office space totaling 18 percent of the square footage. Both cross-dock facilities feature 30-foot clear heights and share ample trailer and auto parking spaces.
Jason Gandy and Davis Gibbs of Sealy represented the company in the transaction, while Cushman & Wakefield's Adam Tyler stood in for the seller.
Buy some, buy some more
Sealy's acquisition of AeroPlex One & Two comes one year after the company made its debut in the metropolitan Detroit industrial market. In April 2021, Sealy acquired a 407,500-square-foot distribution warehouse in Detroit. The property is fully leased to General Motors.
Sealy is on a mission of sorts. Earlier this month on June 6, the company announced that it was on track to post a company record in quarterly acquisition volume, having closed approximately $206 million of industrial assets totaling roughly 2.4 million square feet at that point.