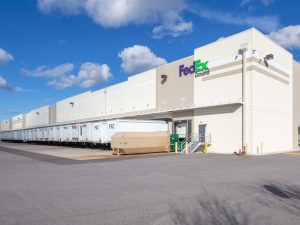 Scannell Properties has sold a 236,976-square-foot distribution center in St. Petersburg, Fla., for $94.5 million. FedEx Ground has been the property's single tenant since its completion in 2017.
A JLL Capital Markets' team including Senior Managing Director John Huguenard and Managing Director Luis Castillo brokered the transaction on behalf of the seller.
The concrete-built distribution center offers 30-foot clear heights and 61 dock-high loading doors, as well as fire suppression systems. Sitting on a 63-acre site, the asset can be expanded by 75,000 square feet.
Located at 1950 102nd Ave. North, in an industrial area 8 miles north of downtown St. Petersburg, the warehouse is 14 miles from the Tampa International Airport via Interstate 275 and roughly 16 miles west of Port Tampa Bay.
The Tampa industrial market has seen consistent growth over the last quarters. With a moderate construction pipeline of 3 percent of existing stock and another 1.6 percent of inventory in the planning stages, demand in the metro remains high. This is mirrored by a steady decrease in vacancy rates, which was as low as 4.8 percent in September, a recent CommercialEdge report shows. The figure is almost 100 basis points tighter than the U.S. average.
Growing the portfolio
Scannell Properties has been busy developing new projects in recent months. In April, the company broke ground on a 388,000-square-foot speculative industrial development in Glendale, Ariz. Once completed, the distribution center will add to the company's 3 million square feet of industrial projects in the Phoenix-area.
That same month, the company announced plans for a $100 million logistics park in Bonner Springs, Kan. The project, dubbed Compass 70 Logistics, will total 2 million square feet of industrial space across three facilities. At the time of the announcement, Scannell Properties had two other Kansas developments in the pipeline.