By Evelyn Jozsa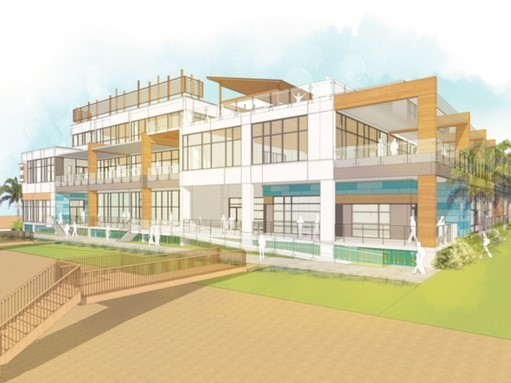 Eyzenberg & Co. has arranged a $22.6 million first-mortgage construction loan for the development of a three-story, 42,000-square-foot entertainment and retail center in Myrtle Beach, S.C. The company advised the borrower, Land South of MB LLC and worked with private lender Gamma Real Estate to arrange the non-recourse, 60 percent loan-to-cost financing. The development is slated for completion by April 2018.
Situated at 1410 N. Ocean Blvd., the oceanfront mixed-use development will comprise a live entertainment and restaurant venue, as well as retail space. Land South of MB has executed three leases for the asset and has four prospective tenants, representing approximately 68 percent of the vacant square footage. One tenant will be Nashville-based live music venue Tin Roof, which will occupy 10,000 square feet, offering music and dining on the entire third floor.
Tenants that have signed leases for ground-floor space include BurgerFi and General Store, which features a mix of clothing, household items, books and jewelry from local artists.
"The development was particularly attractive due to pre-leasing and its optimal location at the northern terminus of the Myrtle Beach boardwalk," said David Eyzenberg, president of Eyzenberg & Co. "It is in a sought-after retail corridor near the Sky Wheel, where there is heavy foot traffic and accessibility from Ocean Boulevard, the boardwalk and beach."
Image courtesy of LS3P ASSOCIATES LTD.