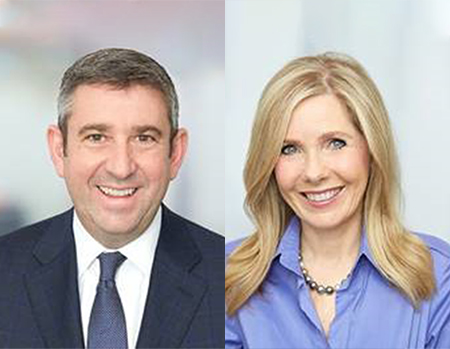 Savills Studley has promoted Lisa Davidson and Eric Feinberg to vice chairmen within the company's Chicago office. The two real estate veterans have been with the company for 22 and 17 years and have been recognized several times for their work.
Davidson joined Savills Studley in 1997 and has been one of the company's top performers. Throughout her career, Davidson closed more than 25 million square feet of transactions in downtown Chicago and the Midwest, including the Old Post Office, for which she was awarded the 2016 NAIOP Transaction of the Year Award. Her client portfolio includes technology companies, nonprofit organizations, professional service firms and major corporations. Last year, Davidson was appointed to the firm's board of directors and named chief diversity officer.
Since 2002, when he joined the company, Feinberg has represented tenants and developed strategic plans and financial models, leading some of the region's most significant projects. In 2014, he became the co-head of the firm's Chicago office, becoming responsible of the management of operations, research and marketing efforts. Prior to joining Savills Studley, Feinberg was a consultant with Accenture.
A few months ago, Savills Studley named Ann Marie Woessner-Collins as head of the Minneapolis office.
Image courtesy of Savills Studley