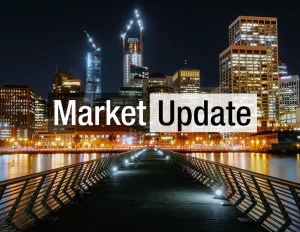 Office transactions in San Francisco kept a slow but steady pace through May. Two sales—comprising 361,800 square feet of office space—were recorded by CommercialEdge in the Peninsula market, for a total of $387 million, a 5x increase month-over-month.
Despite the jump from April, overall San Francisco office investment activity is on a downward trend this year. Over the first five months of the year, sales amounted to $1.0 billion, 40.5 percent less than in 2021. Still, the San Francisco market remains one of the most expensive. The average price per square foot was $931 as of May, up 31.7 percent year-over-year, and significantly above the national $274. Only Manhattan had a higher average, at $967 per square foot.
The largest of the two sales was a $356 million transaction in the SoMa submarket. DivcoWest acquired the 305,260-square-foot property at 550 Terry A. Francois Blvd. from Gap. The new owner aims to attract life science tenants to the building.
Bay Area Office Sales Up M-o-M
The Bay Area market—comprising the East and South Bay—recorded $253 million in office transactions in May, up 220.3 percent month-over-month. All seven sales occurred in suburban locations, with 920,560 square feet of office space changing hands.
A significant sale occurred in the Palo Alto submarket—Wheatley Properties acquired 250 Cambridge Ave. for $39 million from Tarlton Properties. The asset traded at $1,039 per square foot, the most expensive of all transactions in May.
On a year-over-year basis, sales in the Bay Area are also on a downward trend. Over the five-month period through May, CommercialEdge recorded $1.4 billion in office sales—56.5 percent less than the amount recorded over the same period last year. Properties traded for an average of $456 per square foot, down 20.4 percent year-over-year.
CommercialEdge covers 8M+ property records in the United States. View the latest CommercialEdge national monthly office report here.