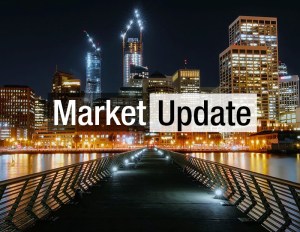 As of April, the Bay Area had 12.8 million square feet of office space under construction, CommercialEdge data shows. Over the first four months, developers have added roughly 750,000 square feet of new space to the pipeline, 15.7 percent less than 2020's first quarter—when around 890,000 square feet of office space broke ground.
Approximately 11.7 million square feet of office space are expected to finish construction this year, a 117 percent increase from 2020's pandemic-induced slowdown, when around 5.2 million square feet were delivered.
In April, one property came online. SteelWave finished construction on a 125,000-square-foot Class A office in the Sunnyvale West submarket. The developer focused on adding several outdoor amenities and is seeking LEED certification for the building. The property is representative of many projects underway, with developers aiming to bring to market Class A product—virtually all the pipeline is comprised of such assets.
Nine office properties finished construction, totaling just over 2 million square feet, half of which is comprised of Uber's Mission Bay campus. Year-over-year, this is an increase of over 200 percent from the same interval of 2020, when roughly 583,000 square feet were delivered.
The Bay Area office market is positioned for a relatively slow recovery, while developers are eager to bring online projects that incurred delays last year. Of the 66 projects currently underway in the market, only 22 broke ground since 2020. Tech and life sciences continue to lead activity, with pockets of development situated in Silicon Valley submarkets such as Sunnyvale (with roughly 1 million square feet underway), or San Jose's CBD (with 3.2 million square feet underway, including one of the largest office buildings under construction in California). In South San Francisco, BioMed Realty and Alexandria Real Estate Equities are building Gateway of Pacific, a 2.2 million-square-foot, nine-building multi-phase development intended for life science tenants.
Earlier this quarter, Tishman Speyer and the Port of San Francisco broke ground on the Visa Building at the Mission Rock development, at the north-eastern corner of 3rd and Mission Rock St in the SoMa submarket. The Garden Building is expected to break ground in June. In total, the project will comprise almost 600,000 square feet of office space and is slated for a 2022/2023 delivery. More than 1.1 million square feet of office space is expected to come online this year in the SoMa submarket.
CommercialEdge covers 8M+ property records in the United States. View the latest CommercialEdge national monthly office report here. We included properties of 25,000+ square feet in our research.