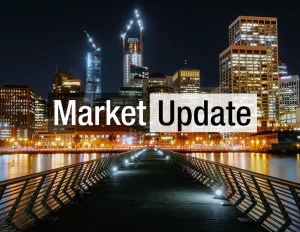 Over the 11 months through November, a total of $3.8 billion was generated by office investments in the San Francisco Peninsula market, exceeding 2020's activity over the same period by 3.3 percent, the latest CommercialEdge data shows. The average price per square foot dropped by 2.2 percent since September, reaching $666 in November, more than double the national rate ($291).
Despite being second only to Manhattan (which averaged $1,267 per square foot) in terms of price, San Francisco might not retain this position for much longer. Rates continued their downward trend, and in November were 42.4 percent lower year-over-year. Investors continued their focus on life science hubs and stabilized assets occupied by tech tenants.
In November, investment sales in San Francisco totaled just over $408 million. Three properties changed hands, comprising 626,558 square feet of office space. The largest transaction was IQHQ's $164 million acquisition of 10 Twin Dolphin Drive in Redwood City. Oracle was the seller of the 262,260-square-foot office building. Soon after, IQHQ also bought Elco Yards, a fully entitled development site in downtown Redwood City. Plans call for a four-building, 600,000-square-foot life sciences campus, as well as two residential buildings offering 540 units.
This year, office investments in the Bay Area market—comprising the East and South Bay—exceeded all other metros tracked by CommercialEdge. A total of $7.7 billion in office sales was recorded over the 11 months through November, a year-over-year increase of 138.5 percent.
As average prices in San Francisco are dropping, the situation is reversed in the Bay Area office market. The average price per square foot reached $523 in November, 23.0 percent higher year-over-year. Tech and life sciences contributed a lot to this growth, with many large players heavily invested in the future of these sectors. Office prices in the Bay Area not only exceeded pre-crisis levels but are at their highest point in over five years.
In November, investment sales in the Bay Area totaled $139 million, a significant drop from the $542 million generated by sales in October. Six properties changed hands (not accounting for portfolio transactions), comprising over 365,199 square feet of office space. The largest of these was the $64 million sale of a San Jose electronics manufacturing facility. Acting through affiliate J&J Properties, Advanced Pain Medical Group bought the two-building asset at 5300 – 5350 Hellyer Ave. from Empire Square Group.
CommercialEdge covers 8M+ property records in the United States. View the latest CommercialEdge national monthly office report here.