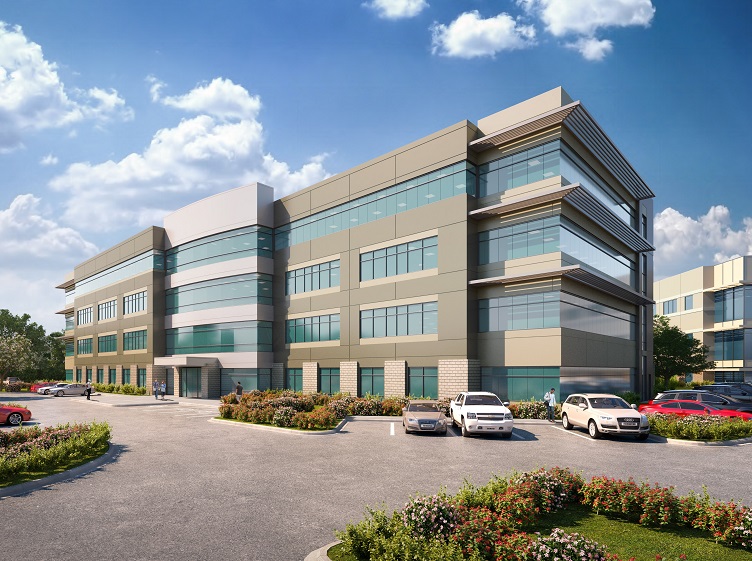 South Texas developer Worth & Associates is breaking ground today on a Class A office building and orthopaedic medical center totaling 220,000 square feet in suburban San Antonio.
San Antonio Mayor Ron Nirenberg is slated to speak at the groundbreaking ceremony for the two adjacent projects, RidgeWood Plaza II and TSAOG's RidgeWood Orthopaedic Center, within the RidgeWood Park master-planned office campus.
The pair of projects fronting Highway 281 are scheduled for completion in the summer of 2020. Located between Sonterra Blvd and Redland Road, the two properties will share a parking garage and landscaped courtyard. RidgeWood Plaza II will be a four-story, 123,000-square-foot office building upon completion. The project is designed by Chesney Morales and Kopplow Construction serves as the general contractor.
Operated by TSAOG Orthopaedics, the ROC will be RidgeWood Park's first medical facility. The stand-alone, three-story property will have a large, state-of-the-art outpatient surgery center that will replace TSAOG's existing clinic space in the city's Stone Oak area.
Worth & Associates sees robust office demand
In a prepared statement, Worth & Associates President of Development and Brokerage Clint Worth said the new project builds on the "phenomenal success" of neighboring developments RidgeWood Plaza I and RidgeWood Business Center I & II. The newest of these, RidgeWood Plaza I, is a 148,000-square-foot office building completed in 2015.
"Because of its outstanding location, tenant mix, and class A office buildings, RidgeWood Park is fast becoming San Antonio's premier business park," commented Worth in the statement. "The addition of TSAOG as a tenant will add tremendous prestige to the development."
Worth & Associates owns and manages more than 2.9 million square feet of commercial properties. In May 2018, the developer kicked off Inwood Village I, an office project several miles west of RidgeWood Park. The two-story building will feature 23 Class A, move-in ready office suites. Upon completion, the two-building Inwood Village project will bring nearly 150,000 square feet of office space to the Northwest San Antonio submarket, which has the city's highest asking rents.
Despite the steady growth of the city's economy, boosted by the health-care, insurance and manufacturing industries, metropolitan San Antonio saw its office-using job market shrink by 7,000 during 2018, according to Yardi Matrix. The office demand slump was caused by job losses in the financial activities and professional and business services sectors, which were linked to a slowdown in the mortgage industry.
Image courtesy of Worth & Associates