November 2, 2010
By Barbra Murray, Contributing Editor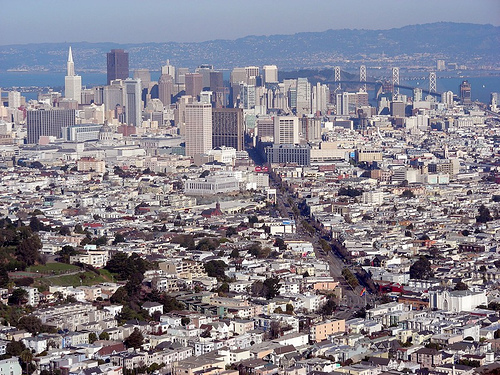 Salesforce.com Inc. has gotten its hands on some precious property in San Francisco that will become home to its new 2 million square-foot worldwide headquarters. The enterprise cloud computing company just closed its purchase of 14 acres of land in the city's Mission Bay neighborhood from Alexandria Real Estate Equities in a transaction valued at $278 million.
"The price appears to be fair value for the site," Matt Bernstein, research manager with real estate services firm Grubb & Ellis Company, told CPE. "There are not many options for a user that wants to create a 2 million square-foot campus in San Francisco." Grubb & Ellis was not involved in the transaction.
The acquisition leaves Salesforce.com with a group of eight parcels–Mission Bay lots 29-34 and undeveloped segments of Mission Bay lots 26 and 27–located across from the University of California San Francisco and a light rail station. The purchase also includes parking rights in an existing garage and additional land-related entitlements and improvements. "The 14 acres are part of the San Francisco Redevelopment area in Mission Bay and with a master plan currently in place, Salesforce should have fewer hurdles developing this site compared to other areas of San Francisco," Bernstein said.
Salesforce.com currently maintains its corporate headquarters at the 400,000-square-foot The Landmark at One Market in the Financial District and occupies additional space in the buildings at One Market Plaza, 1 California Street and 123 Mission Street. The company has not yet announced a start date for the development of its new home, but come December 1, 2017, barring any renewals, its lease agreements will have expired, according to SEC documentation.
San Francisco's office market is all abuzz about the Salesforce.com land acquisition. "This transaction continues to show that technology companies are driving the market in San Francisco," Bernstein said. "Technology companies have been flocking to South of Market because it is where their workers want to be. Although Salesforce's new campus will be in Mission Bay, Mission Bay borders SOMA and will offer similar amenities and the location preference that tech employees want–easy access to CalTrain and Interstate 280, and the ability to provide creative space for employees that is difficult to find in San Francisco." In the third quarter, leasing activity among tech firms was responsible for the first positive absorption in the market in seven quarters, according to a Grubb & Ellis report.
"The deal is nothing but good news for San Francisco and Mission Bay," he added. "Salesforce is a homegrown company and San Francisco should be delighted that Salesforce will keep its headquarters in San Francisco."