By Adriana Pop, Associate Editor
As a milestone of its 350th anniversary, Saint-Gobain, one of the world's largest building materials companies, announced the official opening of its new North American corporate headquarters: a 320,000-square-foot, 65-acre campus located at 20 Moores Road in Malvern, Pa.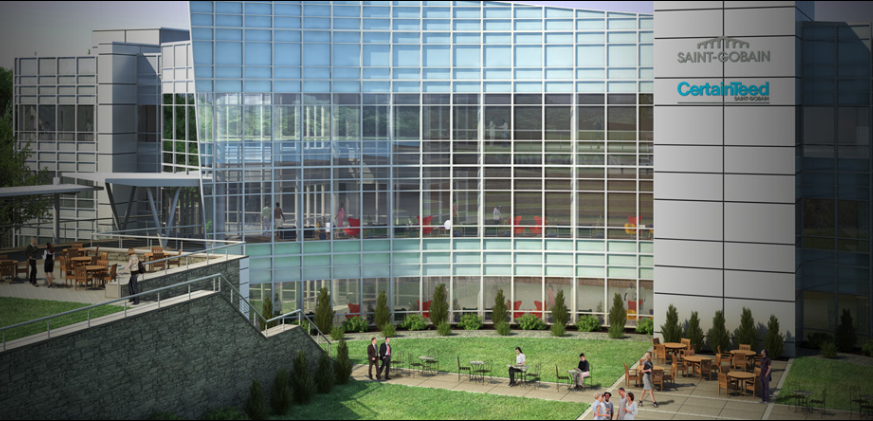 The nearly $80 million project is the result of an 18-month redevelopment of a long-dormant 1960s two-building complex into a dynamic showcase for Saint-Gobain and its North American construction materials subsidiary, CertainTeed Corporation.
Designed to take full advantage of Saint-Gobain and its family of companies' extensive portfolio of products, the new facility opened on October 15, on the exact day Saint-Gobain was founded 350 years ago by King Louis XIV of France to manufacture glass for the Hall of Mirrors at the Palace of Versailles in Paris.
The project is expected to be the only commercial building in Pennsylvania to have an interior and exterior that is LEED Platinum certified.
The E. Kahn Development Corp. and J. Loew & Associates Inc., in collaboration with AEGON USA Realty Advisors LLC, led the headquarters' redesign. Key project members also include Bernardon as the designer for the exterior and lobby; Jacobs as the designer for the interior; D. Fickler Construction LLC as the contractor; and Binswanger as the real estate broker and project manager.
The new headquarters features significant open-concept office space; 116 collaborative spaces; a cafeteria; a fitness facility; a pond; a fountain installation; and 1.3 miles of walking trails.
"Saint-Gobain and CertainTeed's Headquarters is designed to demonstrate the power our products have to improve the quality of people's lives. It is a shining example of how innovative companies can design, construct and renovate sustainable, healthy, comfortable and environmentally friendly buildings around the world," stated John Crowe, president & CEO of Saint-Gobain and CertainTeed Corporations.
The conglomerate expects to fully complete the relocation of the 800 employees who work from their current location off Swedesford Road in Wayne to the new headquarters by the end of November.
Photo credits: Saint-Gobain